Human Interest
Anambra will soon domesticate Correctional Service Bill – Prof Ifemeje
News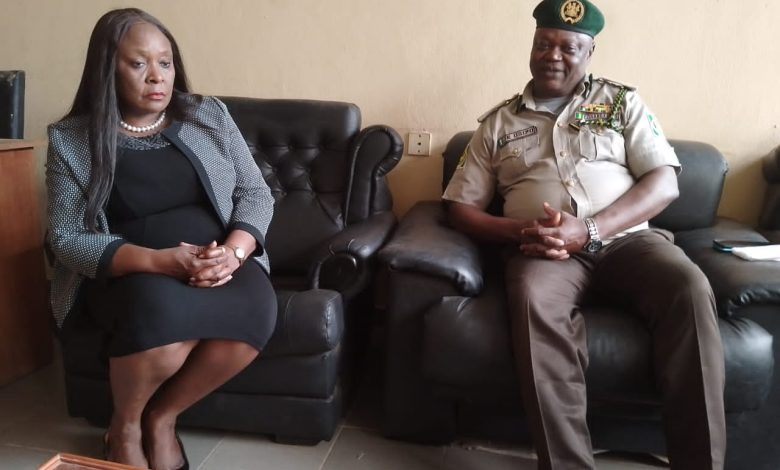 By Tony Okafor, Awka
The Anambra State Government will soon domesticate the Correctional Service bill, the State Attorney-General and Commissioner for Justice, Prof Sylvia Chika Ifemeje, has said.
Ifemeje disclosed this when the
Anambra State Controller of Correctional Services, Usifo Joseph paid her a courtesy visit on Wednesday in her office at Jerome Udoji Secretariat Complex , Awka.
Recall that former President Muhammadu Buhari signed the Nigerian Correctional Services Bill into law in 2019. The Act repealed the Prison Act, Cap P29, Laws of the Federation, 2004 .
Inter alia, the Act aimed at addressing issues that were not covered under the repealed Act and improve on prison administration.
Speaking during the courtesy visit, Prof Ifemeje, pledged the state government's unalloyed support to assist the correctional services, especially in the areas of expansion of the facilities.
Thanking the Controller and his team for the visit, Ifemeje noted that the state government had installed solar energy in all the correctional centres in the state.
She said the state government had done extensive repairs at the Ekwulobia Correctional Centre, stating that the correctional service bill would soon be domesticated in the state.
She said, "We share a common passion with the new Anambra State Controller of Correctional Services, Usifo ,E.Joseph.
Our common passion is that of reforming those who are convicted and incarcerated at the correctional centers."
Speaking earlier, the new Controller, Usifo Joseph, said his reason for the visit was to familiarize himself with his working environment and to seek ways of adding value to the services of the Nigerian Correctional services.
He expressed readiness to collaborate with the Justice Commissioner in order to achieve the desired results in the justice delivery sector.
He also expressed interest in the immediate implementation of virtual hearing facilities in criminal cases, which the Anambra state government had fully deployed in four Correctional Centres in the state .
He decried the plight of inmates and prayed the Attorney-General to do to something concerning the teeming population of youths who were in detention because of nonpayment of fines and sundry reasons.
The Controller noted," Some may not have committed any crimes while some may have actually committed crimes.
Both the Attorney-General and the Controller agreed on the need to transform the inmates who were mostly adolescents into better citizens for their own good and society at large.