News
APC Propagandists are Swindling Andy Uba – APGA
Politics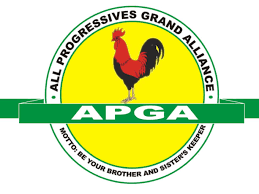 PRESS RELEASE
APCPropagandists are Swindling Andy Uba
1. Both the Anambra State branch of the All Progressives Congress (APC) and the Andy Uba Gubernatorial campaign Organization (AUGCO) have been hiring all manner of propagandists to help, to use their language, "launder the image" of the APC supposed candidate in the November 6 gubernatorial election in the state. Arising out of the total absence of a programme of action or vision for Anambra people or even personal accomplishments to sell, the propagandists have been making statements which are just infra dig.
2. This afternoon the propagandists issued a press statement claiming that Governor Willie Obiano has directed all civil servants to submit their permanent voter's cards (PVCs) to him. How all civil servants in the state can personally and directly hand over their voters' cards to the governor is a conundrum which only these funny propagandists can resolve. The so-called directive or circular has no reference number nor date. Of course, the propagandists could not reproduce the alleged directive. All this shows that the press statement is lower than ordinary fake news.
3. The flurry of bizarre statements emanating daily from both the Anambra State APC and the Andy Ubah Governorship Campaign Organization owes to only one thing: a desperation to swindle a fortune from the supposed APC gubernatorial candidate while the electioneering campaign lasts.
4. There is a slogan which APC operatives in the state use to seduce materially minded individuals, namely, "Andy dey pay". In fairness to the operatives, the first set of politicians who defected to the APC were well paid, but later defectors have been shortchanged. The new APC propagandists were hired on the basis of "pay as you write". This is to say, they are rewarded on the basis of stories they write daily, regardless of verisimilitude, that is, if the stories resemble true events or not.
5. Consequently, the propaganda operatives have daily been churning out all kinds of statements making outlandish allegations against the state administration. What is more, they often allege that the administration has been giving mindboggling amounts to an endless list of people to advance its cause. What they intend to achieve with these actions is to compel the supposed APC gubernatorial candidate to fork out huge sums to them. It is unfortunate that Senator Andy Uba has yet to discover this trick by his publicists. It is surprising that he hasn't learnt lessons from his experience with certain communication practitioners who scammed him of huge sums when he contested to be the Anambra State governor in 2007.
Signed
C. Don Adinuba
Commissioner for Information & Public Enlightenment.