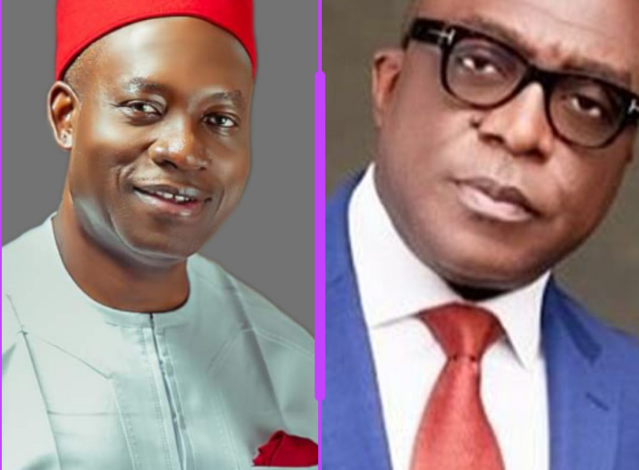 The All Progressives Grand Alliance, APGA has attacked Prof Obiora Okonkwo for scoring Prof Chukwuma Soludo low on projects in Anambra State.
Okonkwo had while speaking to journalists said that there is very little development on ground, to guarantee a second term for Soludo.
Replying to this, the National Publicity Secretary of APGA, Mr Ejimofor Opara described Okonkwo as being desperate to become governor of Anambra, saying; "His proclivity for always contesting every election gives him out as a "desperate politician"."
In long reply, Opara said: "Beyond his private airline business, whose impact on our regional or national business outlook is only tangential, there is nothing of substance ascribable to Mr Obiora.
"To clear his deliberate ignorance, Obiora needs to be reminded that Anambra is not a State where "big men" like him wait for government intervention. He should borrow a leaf from the late Tonimas from Neni, Bobisko from Adazi and Ejison from Oraukwu. These are men who have deployed personal resources for public good.
"Coming to lash on Soludo just to present himself as the avatar as a prelude for another bound-to-fail electoral outing shows that he is a man who is self-distracted."
He continued: "As at today, his kinsmen from Ogidi are still thanking Governor Soludo for Honouring their eminent Son, the late Prof Chinua Achebe, even if Soludo has achieved nothing, this very feat calls for appreciation from Mr Obiora, not talking about his delusional blindness towards Soludo's manifest infrastructural revolution
"The Mmili John flooding issue in Ogidi that has continued to disturb motorist on that road has not been without attention. Even as I speak to you, a total redesign of that road is underway and the Soludo Administration has shown visible commitment to salvaging the situation. Mr Obiora should know this.
"Talking about whether or not Soludo deserves a second term is certainly not a concern to us right now, either as a Government or a political party. Talking about political Party, where does Mr Obiora belong? The last I checked he was in the ZLP after he was instrumental to tearing the PDP into carcass.
"Soludo's second tenure will be determined strictly on the merit of his achievements some of which include very historic feats such as the recruitment of 5,000 teachers just within 5months in office; the flagoff of over 400km of roads at various levels of completion; recruitment of 300 health workers to end the era of hospitals without doctors; declaration of free antenatal and free delivery for Anambra women; declaration of a totally free and qualitative education for public primary and Junior secondary schools in the State plus the recruitment of 3,000 more teachers solely for public schools; the one youth two skills program that will be empowering over 5,000 Anambra youths with funding and equipment after few months of training; the restoration of security in 8 local governments hitherto occupied by criminals; the revamping of three General hospitals one in each of the 3 senatorial zones; the introduction of telemedicine in rural communities with a successful pilot at Awkuzu in Oyi local government.
"Mr Obiora should also avail himself of the recent data from the Nigeria Bureau of Statistics on Anambra's rating on the ease of doing business and the the attraction of Foreign Direct Investments (FDIs).
"These things are clear to the blind, and if Mr Obiora can't see them, then he should visit his eye doctor or cure himself of this compulsive disorder that has impinged on his ability to see good things," Opara said.