Politics
APGA crisis : Obigwe hails INEC for not recognizing Edozie Njoku
Politics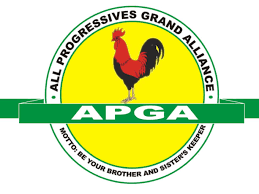 Tony Okafor, Awka
The National Coordinator of All Progressives Grand Alliance(APGA) Media Warriors Forum, Chinedu Obigwe, has commended the Independent National Electoral Commission( INEC) for not recognizing Chief Edozie Njoku, as the National Chairman of the APGA.
Njoku had claimed that an enrollment order of the Supreme Court stated that he was the APGA National Chairman and not Chief Victor Oye.
But INEC has continued to accord Oye recognition as the National Chairman of the party in all transactions, including for the purposes of the 2023 general elections.
Njoku was reported to have said that for not recognizing him as the National Chairman of APGA, the 2023 polls might not hold.
Reacting to the development, Obigwe in a statement at the weekend in Awka, the Anambra State capital, described Njoku's threat as childish and empty.
Obigwe said, "My reaction to the childish threat of the impostor Edozie Njoku is that he cannot do more than a dead rat.
"Threatening INEC by saying that the forthcoming 2023 general elections may not hold because of INEC refusal to recognise him as APGA National Chairman is an empty threat that will not be of any help to the drowning Edozie Njoku that is desperately looking for a straw to hang on to for survival.
"INEC did nothing wrong by recognising Chief Victor ike Oye as APGA National Chairman. The commission decision to ignore the impostor Edozie Njoku and continue dealing with Chief Victor ike Oye as the undisputed and authentic national Chairman of APGA is a welcome development.
"Edozie Njoku is floating politically like a dead corpse on the murky waters of Nigerian politics because he wants to stand justice on its head but it is not possible for him.
"He will rant until the forthcoming general elections are conducted and the next will be APGA convention for the election of new leadership of the party that will succeed Chief Victor ike Oye leadership.
"Edozie Njoku is a noise maker that must be ignored by sane minds. As he is making noise, Chief Victor ike Oye will continue piloting the affairs of our party to a greater height. The general public should ignore the empty threat of the impostor Edozie Njoku."