Politics
APGA warns INEC not to distribute Anambra election materials from Uzodima's Imo
APGA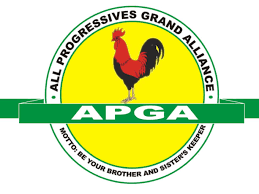 Nwafor Okafor
The All Progressives Grand Alliance has condemned the planned distribution of some election materials for the November 6 Anambra governorship election from Imo State by the Independent National Electroral Commission
In a statement on Thursday in Awka by the National Coordinator of APGA Media Warriors, Chinedu Obigwe, the party said to do so meant the electroral body had been compromised.
THE STATEMENT READS
INEC must rescind the decision to distribute non- sensitive materials for Anambra election from Owerri in imo State.*
The decision of INEC to distribute materials for Anambra governorship election from Owerri in imo State is a clear evidence that they have been compromised by APC led Federal government and ready to do their evil bidding of rigging the November 6th election in favour of their party.
INEC does not have any justifiable reason to give for their decision to keep non sensitive materials for the election in imo State and distribute it from Owerri.
imo State is not even secured and the insecurity problem in that State will definitely affect the movement of the materials on election day.
Nothing stops INEC from storing the materials in Asaba Delta State that is very close to Anambra.
Another thing is that with the utterances of Governor Hope Uzodimma, APC only hope of winning the forthcoming November 6th election is by rigging, so for INEC to now decide to keep materials for the election in imo State is a proof that they are part of the plot to rig the election.
Already ndi Anambra are spoiling for war because of this ill conceived decision of INEC.
The best thing for INEC to do is to rescind that decision because doing that will make the people of the State to have confidence in them.
The leadership of INEC cannot feign ignorance of APC boast to rig the November 6th election and telling ndi Anambra that they will distribute materials meant for the election from Owerri is annoying and unacceptable.
If INEC fail to rescind their decision, ndi Anambra will embark on a mass protest and pass vote of no confidence against them.
A stitch in time saves nine.