News
Apologise to Obi Cubana, you don't harass Dangote, Igbo group tells FG
News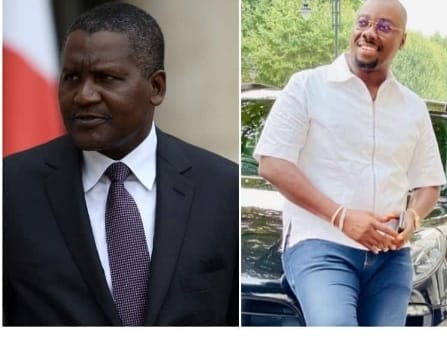 By Nwafor Okafor
The Federal Government and its security agencies have been told to stop further harassment and intimidation of the young Igbo businessman, Chief Obinna Iyiegbu, popularly known as Obi Cubana.
Ndigbo Unity Forum (NUF), which made the call in a statement in Awka, issued after its January 2022 general meeting said the invitation, harassment and intimidation of Obi Cubana by security operatives had become so rampant and unnecessary that it had to be condemned.
.THE GROUP'S STATEMENT READS:
Recently, Obi Cubana has been guest of Nigeria Drug Law Enforcement Agency ( NDLEA), the Police and Economic and Financial Crime Commission (EFCC) but they did not mention exactly the reason for the frequent invitation of the business man.
The NUF in the statement signed by their President Ikemba Dede Uzor A Uzor and its Publicity Secretary, Chief Unah Zachkius, warned that "the nonsense should stop", asking how many Northern business men including Aliko Dangote and others from other parts of the country were being harassed in such ignoble manner.
Even the one in wanted list of United States of America (USA) has been protected not to extradited but they take pleasure in harassing Obi Cubana because he's an Igbo man.
NUF said that the Police officer has not been handed over to US authorities because he is a Northerner, noting that if he was an Igbo they would have hurriedly handed him over.
NUF have they invited Dangote with all his sheddy business deals, why Obi Cubana.
They just don't want any other person to be wealthy like them who steal from Government treasury."
NUF further said the only sin of Obi Cubana was that he an Igbo and he gave his late mother a befitting funeral, warning that if the invitation, harassment and arrests continued, they will mobilise Igbo groups and youths to stage massive protests against Federal Government of Mohammadu Buhari and its fulanised security agencies throughout the country.
NUF said the frequent invitation of Cubana was part of the policy of Buhari Government to persecute and impoverish Ndigbo, which his fulanised security agencies have the arrowhead.
Attempt, said the group, to link Obi Cubana's source of money to drug or any other crime amount to witch-hunting and insult but will fail , saying that Obi Cubana has not broken any known Nigeria law since he has the right to spend and enjoy his money the way he wants and gave Federal Government 7 days to publicly apologise to him since he is still mourning his late mother Ikemba Dede Uzor warned.