News
Biafra fighters flee as army swoops, recovers artillery launchers in Anambra
News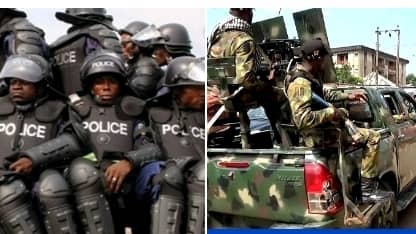 Troops of the Nigerian Army have recovered two locally made Artillery Projectile Launchers from the camp of the Indigenous People of Biafra and its armed wing, Eastern Security Network, in Anambra State.
The Director, Army Public Relations, Onyema Nwachukwu, confirmed this in a statement
Mr Nwachukwu, a brigadier-general, said the combined troops of 302 Artillery and 14 Field Engineer Regiments recovered the equipment while conducting operations against terrorists on Monday.
He said the artillery weapons, armed with projectiles, were seized alongside other items, when troops swooped on the dissident fighters, who fled in disarray, deserting their camp on sighting the troops' advancement.
He said the troops arrested one combatant of the dissident group and recovered from the fleeing terrorists several items, including 48 rounds of 7.62 mm NATO ammunition, four mobile phones, one handheld communication radio and a substance suspected to be cannabis.
The army spokesperson said the troops of the 34 Artillery Brigade, in a separate operation on the same day, conducted an offensive operation against oil thieves in Oguta Local Government Area of Imo State.
He said the troops recovered several items from the camp, including one crude oil cooking oven, three reservoirs and several connecting hoses and pipes.
Other items recovered were three mobile phones, one power-generating set, three pumping machines, one CCTV camera mounted on a tree top, a substance suspected to be cannabis and some fetish objects.
"The Chief of Army Staff, Lt.-General Taoreed Lagbaja, reiterates the Nigerian army's commitment to maintaining peace and security in the country.
"He has charged the troops to be resolute and uncompromising in the fight against terrorists, economic saboteurs and other criminal groups in the country.
"He enjoins members of the public to provide credible information to security agencies to enhance ongoing operational efforts to improve security across the country," he said.