News
Insecurity: Obosi declares war against criminals, march round community
News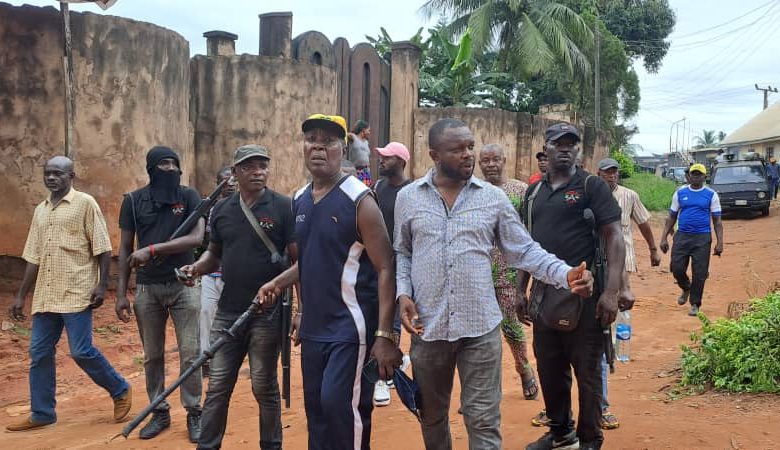 Obosi Community in Idemili North Local Government Area of Anambra State has declared war against criminals.
The community has been a hotbed for crime, especially drug and cult related activities, and has witnessed several killings, including the gruesome murder of a former President General of the community.
In what looked like taking the bull by the horn, the Central Executive Council of the community's leadership, Obosi Development Union (ODU) on Wednesday embarked on a one day awareness campaign to express readiness to secure their land.
The leadership conducted a march which consisted of members of the community and their vigilante round the community.
The community warned criminal elements to amend their ways or leave the town for their own safety
President General of the community, Barr Chimezie Obi who addressed member of the community stated that the motive behind the campaign was as a result numerous crimes and many other atrocities that have dented the image of the community, and it's people.
According to him, this challenge led to integration of Obosi Development Union Central Committee Executives, Branch President and their secretaries, central security unit and also the village branches of the union to decide on the right step to be taken to put a perpetual end to the ugly trend completely.
Barr Chimezie said: "Though many of the culprit are foreigners who claim to come from Obosi, but we are issuing a final warning to the individuals responsible to pack their loads and leave the community.
"We have the political will to work, and need support in terms of vehicles and other security gadgets and equipments. We need more Police presence, more man power and more recruitment of vigilante operatives," he added.
He said the primary purpose of the exercise was to secure the Obosi inland, before venturing into the Urban part of Obosi and called on Governor Soludo and other well meaning Ndi Obosi both home and abroad to partner with the Union in the fight to secure their hometown for the betterment of all.
Transition committee chairman of Idemili North local government area, Hon. ChuksBrown Ezeoba expressed his support for their actions, commending the move to ensure a safe and secured Obosi.