Sports
Catholic Priest, Obinna Dike Tells of His Many Exploit in Football with DOSAD
Sports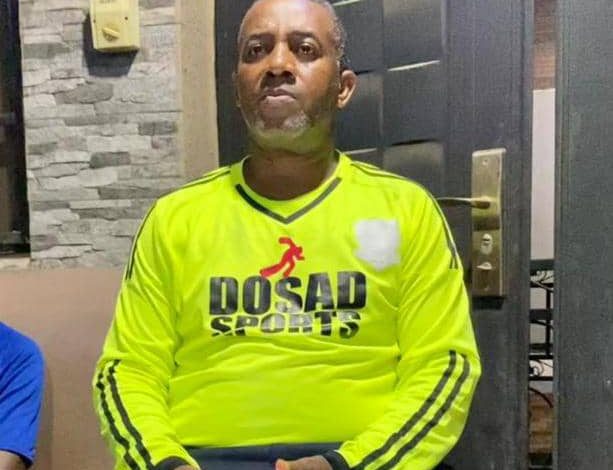 With the establishment of the Anambra independent Football league (AIFL), the state breath a fresh air after many years of no active league in the state. Six years after, the organizers are counting the blessings of the Rev. Fr. Obinna Dike's bold step amidst dangerous waters of football politics in the state.
One of such blessings is the invitation of DOSAD FC, the current Champions of AIFL to participate in a potent football scouting tour of Iran and Bahrain.
In this interview with the brain behind the success stories, Rev. Fr. Obinna Dike, founder AIFL and Head Coach, DOSAD FC, gave insight on the trips and the dream behind AIFL.
Excerpts……
Coach, your team DOSAD FC is embarking on a tour. What is the name of the tour and what does it mean for the club?
Actually, we were invited to a football scouting tournament primarily in respect of marketing our players that our foreign partners have been following. We call it TOUR OF ASIA. First in Iran and later Bahrain. So, that of Iran, we were invited for a scouting program because they have been following our team as champions of AIFL and they followed our profile how our players are developed since 2019. An agency there together with their football federation is putting up an international scouting tournament primarily for us to discover the beauty of Iran against so many negative stories about Iran and all that. And we too decide to use it to launch what we call 'FOOTBALL BEYOND THE PITCH' program. Because footballers have also life to live outside the pitch. Nigeria and Iran have so many things on the side of negativity but then some positive things about football. So, we want to use that language of football to show that yes not all Nigerians are drug peddlers or those who harvest organs. Just like the world knows, we have great footballers and talents. So, that's precisely why we are going. At the end of the day, we have some players that may join Iranian league. And also our partners all over the world are coming there because the program will have also scouts and club directors from Russia, Armenia, Spain, Saudi Arabia would be coming to watch our team.
Exactly when are you traveling?
We are actually supposed to travel second or third week of June but then to make everything right to accommodate our travel of both Iran and Bahrain, most likely we are traveling first week of July. We have gotten our visas.
How many players are you traveling with?
For the Iranian team, we have seventeen players and two officials. Then for Bahrain, we have nineteen players and two officials.
Apart from what you said earlier, what are other benefits of this trip to DOSAD FC, AIFL, Anambra state and by extension Nigeria?
First of all, the vision of DOSAD and AIFL is that at the grassroots we can discover talents, nurture talents unto professionalism, unto excellence. And that's precisely what we have done over the past four, five, six years. This is the sixth season of AIFL and this players playing in the league, some of them have had experience with national teams ( U-17, U-20), some of them had experience with NNL teams, NLO teams but basically they were trained here. They have remained fate with us. Even as we are traveling, the Iranian team, about 11 of those players have pre- contract with clubs who are coming over there. So, these players have been profiled with so many programs we have done like this. But this time around we want to take it outside the shores of the state and outside the shores of this country to the world. Because they said "instead of we coming to your country, we have seen your team, we followed them, bring the whole team to us". So that's exactly what we are doing. And believe me benefits abound.
What would you say of AIFL season six in Anambra state?
Actually, it is a cap on top of the honors we have. Because the reason we created AIFL is to have a microcosm of Super League you hear about. Those who want to play professional football start from this amateur grassroots level and replicate what they are doing over there. So with this foreign tour and all that opens a whole lot. As l am talking to you now, with this two, when we got Iran Bahrain called and cued in. Now we have Hungary, we have Moldova. They have expressed interest for us to bring our team later. Some of them will be coming there to watch our team. It's a great opening for Anambra and for the league. In as much as it is DOSAD FC for this one, we have two or three players other AIFL teams and then in subsequent ones we include more players because we are family.
Has this trip been a distraction for DOSAD FC as they are not doing well in the league this season even the FA Cup?
Actually, I will give credit to rather to the teams in AIFL. Anybody playing DOSAD FC now knows that you have to go and prepare. We are current AIFL champions and you give it to those teams. Teams that want to travel play a lot of matches. First of all, let's give credit to those teams that beat us, it means that have really come up. Wether we had possession for 80 or 90 minutes, it doesn't matter. But it has helped us grow. And then secondly again a little bit of distraction but l don't want to give it as an excuse. Because actually in the later part of the league, we were playing with our second team so that they try to stay when these people might have traveled. Because almost all of them are not coming back. So you have to start honing those ones from secondary schools who joined us to play top matches. But it is not an excuse. We give credit to those teams that beat us, they really beat us.
What is the dream behind AIFL?
AIFL is the vision for growing footballers in the right way from the grassroots to stardom. Just like you have in developed countries all over the world with developed league. They don't joke with the academies. I will give you a typical example, in AIFL we play for nine, ten months in a football season. That's the reason DOSAD FC as a team we decided not to play NLO. Reason, in NLO you play for three months, so what happens to the other nine months. NNL is ok they play like for nine months. Amateur league too, l think they play for two weeks and if you are playing in amateur, how do you keep your players busy. But you see AIFL we keep players busy for the whole season and that's the secret. Almost about six or seven teams in AIFL have their players overseas and that is the truth. Our going now, we have a lot of partnerships to sign there. DOSAD in particular as a club, we have three or four partnerships with clubs there who have been following us all the while. So, we go there to sign , then we take decisions on some players who have so many contracts. There are players with two or three clubs following them. They are coming there to watch them and we take final decision about where they are heading to. These are small small things we are doing that will encourage people. Already for our trip to Hungary and Moldova, the list is building because AIFL teams have seen Stars that would make up the team. And you know how football is, when it comes everybody gets what is supposed to be his benefits. But most importantly, from Anambra we train footballers and take them to anywhere in the world. That's just the courage.