Politics
Chukwuma Umeoji is Jigawa governorship aspirant – APGA
APGA's affair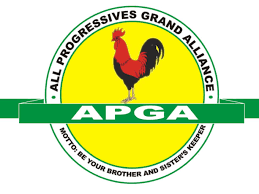 The National Co-ordinator of APGA Media Warriors Forum, Chinedu Obigwe has described Chukwuma Umeoji as a Governorship aspirant in Jigawa State and not in Anambra State .
Umeoji had procured a court order from a Jigawa High Court for the purposes of the November 6 poll in Anambra State which somewhat was recognized by INEC, for the time being.
But Obigwe in a statement described Umeoji's court endorsement as a pyrrhic victory and warned him to stop associating himself with the state governor, Willie Obiano.
The statement reads: Light and darkness has nothing in common and they cannot cohabit together.
"Governor Obiano and our God ordained incoming Governor, Prof Charles Chukwuma Soludo, cannot be associated with a devilish agent of destabilisation and saboteur like Umeoji.
"The general public will bear me witness that the moment Chukwuma Umeoji started rebelling against APGA was when he severed his relationship with Governor Obiano and other major stakeholders of the party.
"As it stands today, Governor Obiano does not need APGA Judas iscariot praises hence the reason why he should keep it to himself.
"I will continue saying it with full confidence that Chukwuma Umeoji name will be removed from INEC as APGA candidate and replaced with that of Soludo before the November 6th governorship election.
"What Chukwuma Umeoji that is APGA Judas iscariot is doing in connivance with Adaora Umeoji, her Jezebel sister is purely a macabre dance that will end in shame.
"Soludo solution is the people's choice and that unanimous choice of the people will triumph at last.
"It's Soludo solution for Governor or nothing.