Politics
Controversy over Ifeanyi Aniagoh's Ambition to Run for Assembly Seat Under APGA
Politics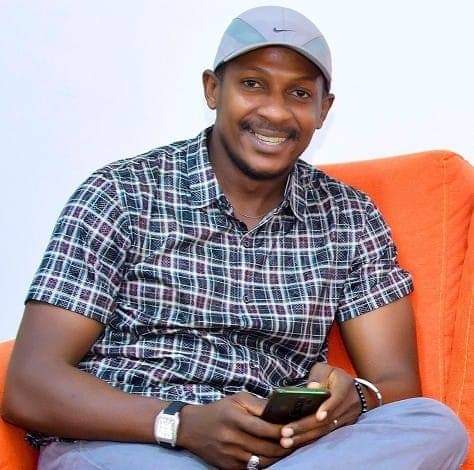 The ambition of the Director General of Anambra Digital Entrepreneurship Office (DEO) and youth mobilizer, Mr Ifeanyi Aniagoh has caused controversy among some youth members of the All Progressives Grand Alliance (APGA).
Aniagoh, a social media influencer in Anambra State is however yet to officially declare his intention to run for a seat in the Anambra House of Assembly, to represent Njikoka 11 constituency.
He is touted to be nursing the ambition of running for the seat on the platform of APGA, but this has stirred controversy as some people have accused him of working for the All Progressives Congress (APC), with the intention to give Andy Uba victory, but has turned around to pretend to support APGA, after his plot failed.
A social media user, Mr Obidiegwu Chukwuemeka Peters in a Facebook post said; "Ifeanyi Aniagoh was among the government appointees that wanted to sell Anambra to the Fulani caliphate, I'm surprised he wants to contest for the state house with the same party (APGA), which he fought so hard to destroy."
The remark has however sparked controversy, with many people condemning Obidiegwu for seeking to truncate the ambition of his fellow youth, while others saluted him for being courageous enough to say the truth.
In the face of the controversy, Aniagoh has remained mute, refusing to join issues with Obidiegwu, but his friends in the social media circle have exonerated him from accusations leveled against him, while many have stated that he is the best for the job of a lawmaker, to represent his area.
Below are screenshots of the post and reactions from commentators…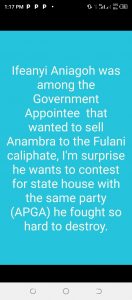 The controversial post by Obidiegwu