News
Defection: APGA raises alarm over impeachment of Speaker, Obiano
APGA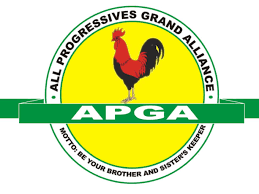 The National Co-ordinator of APGA Media Warriors Forum, Chinedu Obigwe, has raised the alarm over possible impeachment in the Anambra State House Assembly.
The alarm followed the gale of defection to the APC by members of the assembly recently.
In a statement on Friday, Obigwe said, "Anybody contemplating the impeachment of the Speaker of Anambra State House of Assembly to pave way for the impeachment of Governor Obiano risks mob action.
OBIGWE'S STATEMENT READS:
Anambra of today is not Anambra of yesterday.
What was obtainable in the era of President Obasanjo is no longer obtainable now.
Any attempt to foment trouble in Anambra through the impeachment of Hon Uche Okafor, the Speaker of Anambra State House of Assembly will be vehemently resisted by youth of the State.
The demonic Andy Uba and his evil minded cohorts that are behind this plot should have it at the back of his mind that ndi Anambra will give him his well deserved treatment and nip the evil plot in the bud.
Ndi Anambra cherish the peace and security they are enjoying in this State under Governor Obiano's administration and anybody that want to turn the State into a theatre of war will be declared persona non grata by the youth of the State to avoid a compromise of the peace and security being enjoyed in the State.
Since the person is not a lover of peace, he will be asked to go to Borno State, Jos in Plateau State or Kaduna State and stay.
Good a thing that the State I mentioned now are APC controlled State and what it means is that if the demonic Andy Uba is sent to the State on asylum, he will feel at home there.
Am saying it boldly that the demonic Andy Uba will not be allowed to perpetrate the type of atrocities they committed in this State between 2003 to 2007.
If they go ahead with their rumoured impeachment plan, the youth of the State will make Anambra to be too hot for them to stay and they will be left with the only option of relocating from the State.
No amount of gang up and intimidation will make ndi Anambra to withdraw their demand that their vote must count in the forthcoming November 6th governorship election.