Politics
Four Anambra Commissioners, 12 lawmakers paid N300 million to quit APGA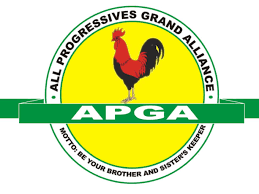 The National co-ordinator of APGA Media Warriors Forum, Chinedu Obigwe, has said four serving Anambra State Commissioners, 12 lawmakers were offered N300million to defect to the All Progressives Congress as well as destabilise the state.
Obigwe stated this in a statement made available to journalists in Awka, the Anambra State Capital.
He enjoined the people of the state
to be wary of money bags who would soon storm the state with deep pockets to buy the consciences of the the gullible.
HIS STATEMENT READS:
More information on how the 6 saboteur lawmakers, 4serving Commissioners and others were lured with 300million naira by the demonic Andy Uba to be part of the evil plot to set Anambra on fire.*
Umunnem ndi Anambra, I reliably gathered that the 6 lawmakers that defected to APC in a video that is trending online were given 300million naira bribe money to share.
They are not alone because my information revealed that 6 other lawmakers, 4 serving Commissioners and others got their own share of the 300million ill gotten money.
The assignment given to them to deliver is to destabilise our peaceful State and set it on fire to pave way for the emergence of the demonic Andy Uba as Anambra State Governor.
Ndi Anambra, we must see it as a patriotic duty to nip the evil plot of setting our State on fire in the bud because we don't have another State to call our own.
Those that pocketed the 300million bribe money and betrayed ndi Anambra must be put to shame.