Human Interest
Ekwulobia flyover: Soludo dares threats, pulls down 'Olulu Eke' shrine
News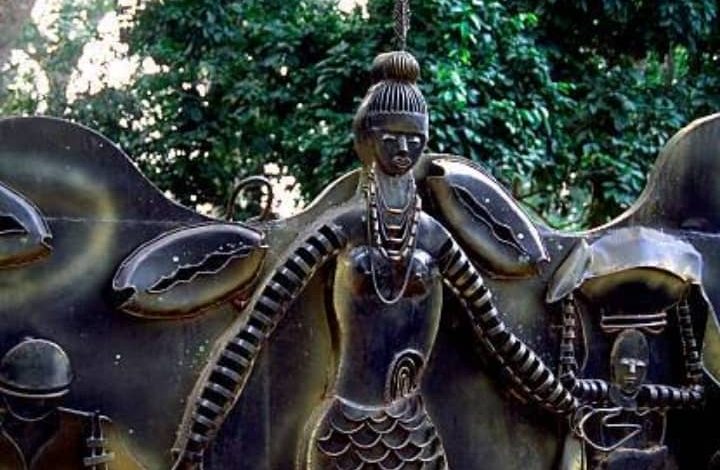 By Our correspondent
At last, the Anambra State Government has demolished the dreaded "Olulu Eke Deity" in Ekwulobia, Aguata Local Government Area of the state.
That was to make way for the construction of a flyover at the town's roundabouts.
This came after Governor Soludo had previously threatened to remove the deity, which was met with resistance from worshippers.
The Udo Olulu Eke deity holds significant reverence among worshippers in Ekwulobia and the surrounding area of Aguata.
Even the Chief priest of Udo Olulu Eke Ekwulobia, known as Okenye (the Ancient One), had challenged the government's intentions.
Okenye argued that if Governor Soludo believed the government owned the site of Udo Olulu Eke in Ekwulobia, then he should attempt to destroy or remove it without following due process.
He emphasized the potential repercussions that the forceful demolition may have and disclosed that he was merely delivering a message as instructed.
From the viral video of the demolition, the driver of the caterpillar was seen dropping some kola nuts on the ground as a sign of respect to the deity before he pulled down the shrine.
The demolition of the Olulu Eke Deity was executed as part of the government's development plan to facilitate the construction of Ekwulobia flyover.
While the plan is viewed as beneficial for the town, Governor Soludo had faced opposition and warnings about the potential consequences of removing the deity.
Not deterred by the threats and warnings, Soludo ordered the demolition of the shrine, saying people will benefit more from the flyover than to edifying an ancient shrine.
Successive governments in the state had avoided the shrine in their constitutions.
Soludo had severally urged the church to confront the common enemy of idolatry which he described as the fastest growing religion in the state.
The governor on one occasion said: "They can come with whatever they want to, but with the bible in our right hand, we shall prevail.
"Anambra is in the hands of God, but we must continue to pray, to take back our state from criminals, touts and lawlessness.
"Idolatry is the fastest growing religion in the state and we must not take it for granted.
"If we bond together, we will survive collectively, but if we go separately, we will die separately. This land is our own, we must not give up on this".
Describing Anambra as God's own state, Soludo said there was need for all denominations to unite as one body in Christ, adding that denomination was merely a mode of worship, faith and dogma