Media Watch
Election is a Contest not War, Peace Corps Tells Nigerians
News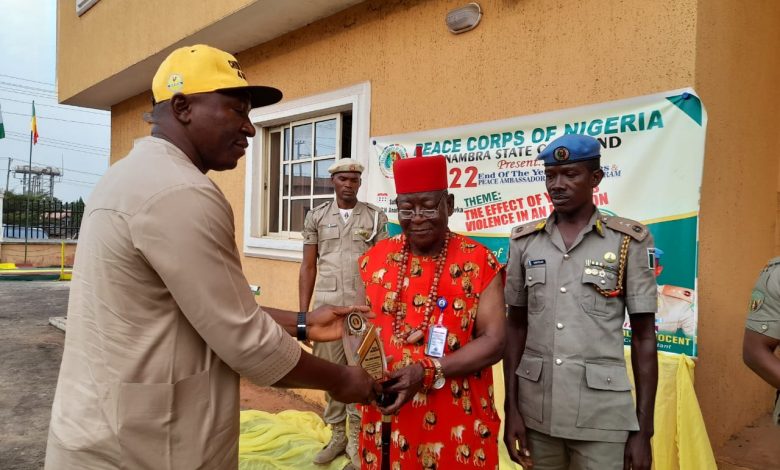 The Anambra State Commandant of Peace Corps of Nigeria (PCN) has called on public to give peace a chance by holding right political attitudes.
Commandant of the corps, Innocent Okolo made the called during its end of year lectures and Peace Ambassador Award Program, adding that election is a contest and not war.
Okolo said that the public need to embrace peace in all its form to achieve sustainable growth and development in the state.
He said that PCN picked its 2022 theme for their year end as "The Effects of Youths Violence in an Election" to bring out the essence of peace in youths engagement in politics.
He said that PCN would honour distinguished individuals in the state who have worked hard closely with the body to fight for the achievement of PCN and have broker peace in their various communities.
The Chairman of the occasion, Dr Chris Eluemunoh, a renowned journalist, philanthropist and community leader said that peace plays a vital role in human activities.
Eluemunoh said the general elections in 2023 needs peace and focus for sustainability of the nation.
He urged the youths and other actors in the political activities to consider peaceful existence of the nation above self interest.
Eluemunoh urged the youths to play parts in elections activities only on acts that would only Foster peace and unity of Nigeria.
"Do not give in to any political rascality, but see yourselves as future moulders of positive Nigeria.
"Take your destinies in your hand and work to achieve peaceful elections that would produce credible leaders that change Nigeria narratives for the best," he said.
Dr Nnaemeka Abamara, a consultant clinical psychologist and mental expert said that peaceful environment yields even state for sane decisions and actions.
Abamara said that youths should see themselves as builders of great nations and should ensure to be in state of Mind to bring out positive actions always.