Health
Father of ex-Super Eagles' goalkeeper, Austin Ejide, clocks 85
Lifestyle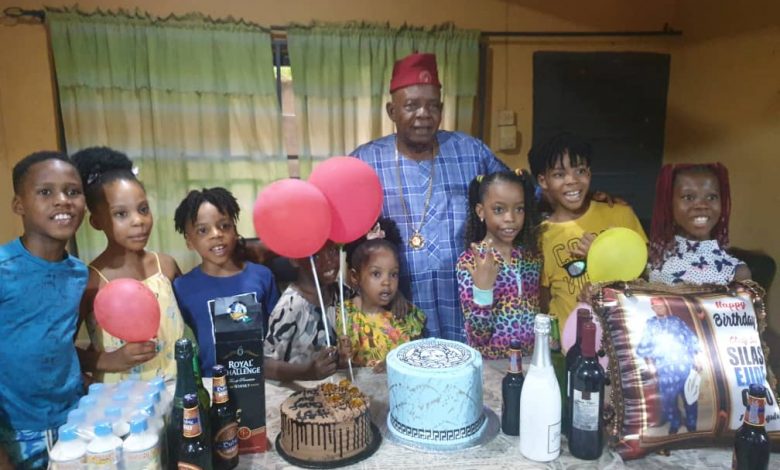 Chief Silas Ejide , father of a former Super Eagles shot stopper, Austin Ejide, has celebrated 85th birthday in his country home,in Enu-Agu village Agulu, in the Anaocha Local Government Area of Anambra State.
The 85th birthday was packaged by his children at his Enu-Agu quarters in Agulu to thank God for his longevity.
The Octogenarian during the celebration, called on politicians, irrespective of their political leanings to embrace peace in order to enthrone a peaceful atmosphere for the development of the state.
He said the call had become necessary against the backdrop of poor manner the political elite played politics nowadays.
He said modern politicking was full of blackmail and violence amongst other activities that earned electioneering processes the name of a dirty game, which he said made good people to shy away from politics.
Ejide said during their time, despite the fierce nature politicking, peace would return immediately a winner emerged and everybody would get to work to ensure that democracy dividends werr achieved.
He said,"We gather to think on the best way to develop the zone either to function as opposition who criticises objectively when necessary as a check to the incumbent, or holders of the power poised to better the lives of the people through instrument of political seats.
"The reverse is the case presently as violence and killings characterise political processed of the present day; people have thrown caution away; youths engage in political thuggery, we need political re-orientation".
He appealed to the people of the state , irrespective of tgeir political affiliations ,to support the incoming government of Prof. Charles Soludo due to be inaugurated on March 17.
He added,"Politic devoid of bitterness will create safe environment to do business; farmers will be in their farm land happily cultivating their crops, civil servants, contractors, students and other political players will be on ground to put in their best.
"People should live their lives with the understanding that they will one day give account of their stewardship on earth. The youth should embrace hard work and shun sharp practices for personal enrichment.
Ejide was a former councilor under NPP in the former old Njikoka Local Government Area of Anambra State. He retired as a businessman in Onitsha before he returned to his country home to join his kinsmen in peace and conflict resolution in the community.
He is a titled stakeholder of Odu Agulu and has brokered peace in the community during its troubled times.
Ejide has many children and over 10 grandchildren.
Mrs Ngozi Ofoedu, the eldest daughter of the Octogenarian, described the father as a straight forward person, who treasures honesty and peace as ways of life.
Ofoedu said" I am happy that I have a father who builds in the right altitudes of discipline and contentment. I have learnt a lot from him and very proud to have him as my father, I wish him many more healthy years.
Okeychukwu Ejide, his first son, said God has rewarded their father with longevity in good health and disclosed that even in his 80s his father still drovr himself around the community to attend to functions.
Ogbuefi Ezeugo Ofoedu, his first son in-law who spoke on behalf of other sons -in law described Ejide as a man of class and honesty.
Ofoedu said Pa Ejide believed in fairness, peace, unity and hard work
The highlight of the occasion was the gathering of personalities, and musical renditions as Pa Ejide danced with his guests, children and grandchildren.
It was gathered that Ejide would be at St Stephen Anglican church, Agulu, to cap the celebration with a special thanksgiving as well to mark the five years memorial service of his wife, Lady Mary Ejidike who passed away on March 13, 2017.