News
Group honours Obiano with extraordinary legacies award
News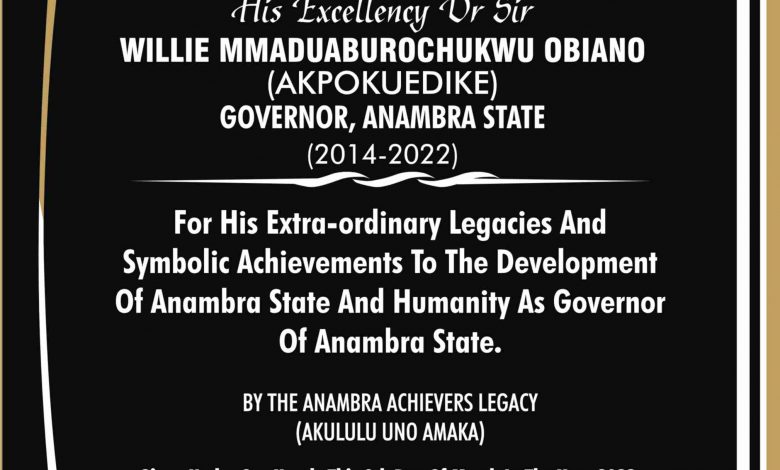 Anambra State based Organization-, committed to the promotion of Public Service Excellence, Anambra Achievers Legacy, has honored Governor Obiano with the Anambra Legacy Achievers Excellence Award.
Presenting the Award to the governor during the commissioning of the International Convention Centre, Awka, the Chairman of Anambra Achievers Legacy Award and former Chairman of the Police Service Commission, Chief Simon Okeke, said that the governor, who is the first recipient of the Award was was considered for the Award because of of his extraordinary achievements in various sectors, including Education, Health, and Infrastructural development.
He noted that the governor also built the Anambra International Cargo and passenger Airport, the International Convention Centre and the Anambra Ulta Morden Anambra Sports Stadium .
Chief Okeke, who was accompanied by the National grand patron of the organization, Justice Anthony Iguh, a Retired Supreme Court Judge,and former Anambra State Chief Judge, represented by the National Coordinator, His Lordship, Justice Alpha Ikpeama, Professor, Donald Okoli, National Publicly Secretary, Pastor Mich Obierika, National Secretary, Lady Chinwe Nnedum, National Women Leader, Barr. Titus Akpudo, President ASATU and Arch Bishop Mike Chukwudum among others.
The Anambra Achievers Legacy Award was conceived in line with the "Igbo Think Home Philosophy of Ndigbo- Nalue Uno and Build a Home", to promote good societal values and right ideals in Igbo land.
The body aims mainly to:
Adequately celebrate outstanding Igbo indigenous achievers, especially of legacy and signature projects and to also
honour Ndi Anambra of proven integrity, hard work, dedication especially those who established industries and business empires to provide employment and boost our local economy.
The organisation is duly empowered by the government of Nigeria for the recognition of individuals and corporate organizations for excellence.
Anambra Achievers Legacy (Akululu Uno Amaka) Award is organized every two years to celebrate exceptional indigenous achievers who have invested heavily in the State including those who built roads, awarded scholarships, built factories and industries and supported rural electrification efforts, which provided job opportunities for our youths and boosted the economy of our dear state. The body is essentially a private sector initiative that seeks to immortalize the indelible achievements of indigenous Ndi Anambra and honour individuals, who have distinguished themselves, the 1st elevens in their various fields of endeavour.
The maiden edition of the Anambra Legacy Achiever's Excellence Award (Akululu Uno Amaka) 2022, is centered on the achievements of His Excellency Chief (Dr). Willie Obiano in the past 8 years. The Anambra Achiever's Legacy (Akululu Uno Amaka) took into consideration His Excellency's extra-ordinary legacies and symbolic achievements which promoted the development of Anambra State and Humanity, in line with the extant philosophy of the organization, "Ndigbo Nalue Uno and Build a Home" which His Excellency has been a core advocate of.
It is instructive that r governor Obiano made visible landmarks in the State. As governor, he also waged Nigeria's most successful war against the Coranavirus,built the Anambra International Cargo and passenger Airport, under two years,developed the Awka Millennium City. He also beautified Awka and other Anambra cities with Morden well lit bridges, streetlights and roads. His other legacies include giant strides in Agriculture, Education, Healthcare, Infrastructure, the Economy and Investments.
It is to the Governor's credit that the International Passenger/Cargo Airport commissioned only last year ,when his administration was 7 years and seven months recorded an unprecedented high number of flights since the commissioning with over 142 flights and 3865 passengers within one month and still counting. This is heart-warming as it shows that the Anambra International Passenger/Cargo Airport is living up to expectation as one of the busiest Airports in the Southeast Nigeria.
The International Convention Centre commissioned a few days ago is the first of its kind in the whole of the South Eastern Region, with 10,000 sitting capacity.. With its commissioning, the Centre is poised to host International, National and Regional Conferences among others. The Architectural Design is one of its kind and something to reckon with.
There is no doubt that with these two spectacular achievements, Governor Obiano has given Ndi Anambra at Home and Abroad a befitting edifice and a huge corridor to bring home their wealth.
Also in Agriculture, Gov. Willie Obiano has moved Anambra State to the top as a food producing State among the states of the Federation. The key achievements of Gov. Obiano's Administration in Agriculture, include increase in crop production through the adoption of the best Agronomic Practices, partnership with Coscharis Group and Josan Agro, in Rice Production and processing .
Today Anambra ranks top among states in Rice Production in Nigeria.
On Education, the State has maintained a lead among other States of the Federation. It is pertinent to note that four teachers in Anambra State won the Federal Ministry of Education Abuja Teacher's President's and School Excellence Award (PISEA) in commemoration of the 2021 World Teachers Day which was held in October 5th, 2021.
In 2017, Mr Clement Okodo, a primary school Teacher at Abagana won the overall best teacher in Nigeria and took home the star prize of a brand new car; Amala Ezenwa, a head Teacher at Awada IV, Obosi in 2018 took home another Brand New Car whichshe won as the overall best administrator in Nigeria, Dr. Mrs Vera Uju Ikegwuani of Anglican Girls Grammar School Onitsha won the fourth position in best administrator category taking home several prizes.
On the student/pupils category the track record of success was an all time high. Also some students from Anambra schools won many laurels both at National and International levels.
Other excellent achievements of Gov. Willie Obiano's Administration include the construction of18 bridges and 131 roads across the State, Erosion Control at critical areas of the State and 'Community choose your project' initiatives and others two numerous to mention.
Payment of workers salaries as and when due was a also a major priority of Gov. Willie Obiano's Administration.
Interestingly, most of these achievements were achieved without borrowing.
It is true that administrators come and go but the feats achieved by any administration are not easily forgotten as such achievements become letters written on the slate of time which cannot be erased or obliterated. This why the Anambra Achievers Legacy (Akululu Uno Amaka) 2022 wholeheartedly and proudly identity with this hero of our time for his outstanding achievements.
Written by His Lordship; Justice Ikpeama .