Anambra Media Gist
FrontFoot workshop recommends ways to avert financial misconduct in govt
Workshop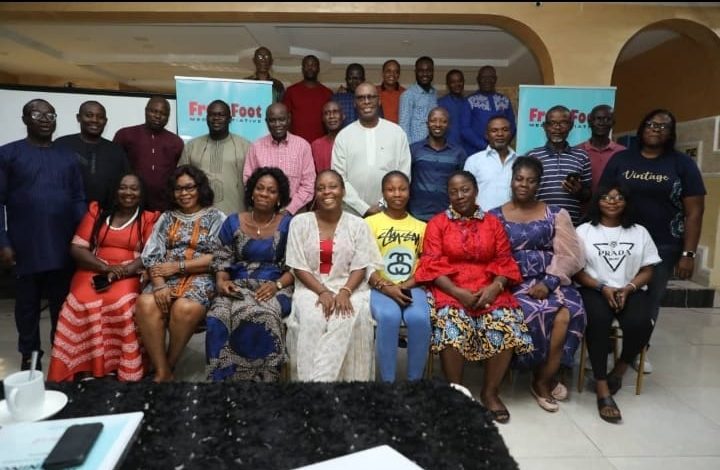 Our correspondent
Accounting and audit experts at a workshop on Audit Reporting in Awka have advocated that to enhance the fight against financial misconduct, state governments must empower the Office of the Auditor-General (AUG).
The measures recommended include autonomy for the Office of the AUG as intended by the constitution, enabling legislation, implementing national and international financial reporting standards, and having independent and robust state houses of assembly.
Three experts from public finance, audit and accounting joined four media experts to speak on the challenges and prospects of audit reporting in Nigeria at the Audit Reporting Training workshop, a two-day event organised by FrontFoot Media Initiative at the Hilton Leisure Resort and Hotel.
FrontFoot Media Initiative organised the workshop attended by 42 participants as part of the Collaborative Media Engagement for Development Inclusivity and Accountability Project under the auspices of the Wole Soyinka Centre for Investigative Journalism (WScIJ) and the sponsorship of the MacArthur Foundation.
Dr Emenike Ezinando, permanent secretary in the Anambra State Ministry of Finance, asked, "Is it possible for an Auditor General to function expectedly without basic independence, requisite autonomy, and above all, the backing of a committed and independent Legislature? Perhaps, this explains the emerging trend of some of our Auditors General turning significant pages of their Annual Reports into inaugural addresses."
Prof Paschal Okolie, Special Adviser to the Governor of Enugu State on Financial Matters, submitted that while Nigeria has many laws to support the audit function, many challenges hamper implementation. They include ineffective compliance by many states with national and international standards and moral failure. Okolie compared Nigeria to the Great Wall of China, which enemies breached only because of citizens' lack of character and integrity.
Noting that "the primary motive of government budgeting is to secure the welfare of the people", the Director of the Unizik Business School and professor of accounting, Prof Emma I Okoye, declared that "A good government budgeting practice cannot thrive in a system void of respect for the rule of law, transparency, accountability and good governance".
Prof Okolie noted the favourable situation of increasing citizen awareness and concern about the financial condition of the states and the Federal Government arising from the State Fiscal Transparency, Accountability and Sustainability (SFTAS) programmes.
"In May 2016, National Economic Council (NEC) endorsed implementing the 22-point fiscal reform action plans by the Federal Government and the sub-nationals. The 22-point reform action plans include early and transparent publication and dissemination of budget and account information, biometric capture of workers to reduce incidences of ghost workers, and proper debt management, among others."
He recalled that the World Bank arranged with the Federal Government to support states in implementing the 22-point Fiscal Sustainability Plan and Open Government Partnership Agenda to strengthen fiscal transparency, accountability, and sustainability in the states.
The support, a full envelope of $750 million to cover 2018 to 2022, comprises four annual performance-based grants to states valued at $700 million and capacity-building grants of $50 million.
States get the grants upon success in the assessment by the Office of the Auditor-General for the Federation as an independent verification agent to confirm their achievement of disbursement-linked indicators each year during 2018-2022.
Syndicated columnist Sonala Olumhense stated that "the audit reports of every state are important towards fully reporting the country" and charged journalists to search for and publicise the reports.
Olumhense pointed to Google for searching for Federal Government audits at https://oaugf.ng/ as well as those of state governments through their websites at https://www.directory.org.ng/.
FrontFoot Media Initiative chairman Sully Abu stressed the significance of the media reporting on state audits. "State houses of assembly meant to use auditor-general reports as vital tools to hold the executive to account sometimes find themselves neutered. The media is vital in spotlighting how budgets are made and public monies are spent".
Abu added that the position of auditor-general is "one of the most important offices of state", but its holders have failed to influence governance and ensure accountability. "Our duty as journalists is to shed light on it and hold our leaders accountable and thus be part of the rebuilding process of our nation."