Human Interest
Group Condemns Posting of Only Northern Generals to Head Military Divisions In Igboland
Security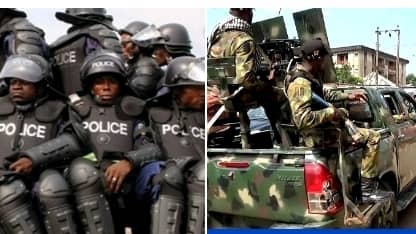 ~ Says development capable of worsening insecurity in S'East
A human rights group, International Society for Civil Liberties and the Rule of Law, also known as Intersociety has questioned the recent posting of the Nigerian Army, saying it is capable of increasing insecurity.
The group lamented that officers from the south regions of the country were only three in the recent posting, which involved 19 officers, 16 of which were northern Muslims.
In a press statement signed by the chairman board of trustees of the group, Mr Emeka Umeagbalasi, he lamented the lopsidedness of the posting, saying that it also impeaches the constitution of the country, which also makes for federal character.
"Intersociety is deeply dismayed by new postings announced by the authorities of the Nigerian Army. The authorities of the Nigerian Army and the Presidency have continued to collapse the high command cadre of the army in the hands of northerners, particularly members of the northern Muslim population.
"This army's latest lopsided postings involving principal staff officers of the Army Headquarters, Corps Commanders, Commandants of Army Training Institutions, Brigade Commanders, Commanding officers and so on; whereby out of 19 top officers and their postings mentioned, only three are southern Christians, while most of the remaining 16 are northern Muslims is unacceptable.
"It particularly saddens our heart that despite widespread public outcries in the East (South-East and South-South) against the flooding of the region with senior Muslim officers, the authorities of the Nigerian Army have stopped at nothing by continuing to flood the region with senior northern Muslim officers.
"It is not only that no South-East officer from the rank of major general was among those in the new postings as a GOC, but another northern Muslim Major General (Aminu S Chinade) has been posted to 82 Division, Enugu as GOC."
The group said the latest postings by the Nigerian Army are "unconstitutional, unlawful, dictatorial, vexatious, illegitimate and undemocratic".
"The postings were specifically done in total disregard to Section 217 (3) of the Constitution of the Federal Republic of Nigeria 1999 as amended. The Section clearly states as follows: "the composition of the officer corps and other ranks of the Armed Forces of the Federation shall reflect the federal character (geopolitical balancing) of Nigeria.
"The postings were also done in grave violation of Section 219 of the Constitution and principles of indigenous involvement or participation by members of the country's ethnic nationalities in the activities of the armed forces including senior and junior officers' promotions and postings."
The group said that its investigation revealed that no fewer that eight successive GOCs of the 82 Division, Enugu, between July 2015 and January 2023 are Muslims including seven Northern Muslims posted to the Division as GOCs in quick succession.
It added that this is capable of escalating ethno-religious security, and also threatens the transparency of the forthcoming presidential election, which holds in February.