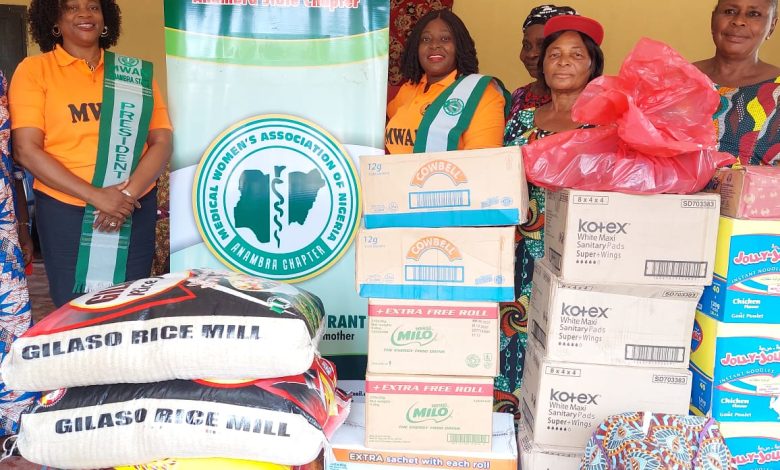 MWAN Anambra State has visited flood victims in Ogbaru, supporting them with food items. The group also visited Igwe's palace in Ohita, Ogbaru LGA, Anambra state.
The visit featured health education session talks on how to maintain good health in the face of prevailing environmental challenges, such as how to prepare healthy diet using local food items,  maintaining adequate hygiene,  hand washing, routine check-ups at community's PHCs, use of Insecticide Treated Nets (ITN), how to make drinking water safer amongst others.
In her speech, MWAN Anambra president, Dr. Chinyere Ukamaka Onubogu empathised with the women on their losses and  sufferings and encouraged them not to lose hope. She also encouraged the women to do their best in taking care of their children, as well as supporting their husbands. Breastfeeding mothers were counselled on the benefits of optimising breastfeeding at this period.
The President called on Governments at all levels to declare a state of emergency on flooding and make adequate plans to the cushion effect of flooding by setting aside enough funds to manage the menace. She called on the government to construct more dams in strategic places, ensure that existing ones are in good shape, dredge river Niger and construct more drainage channels. On their part, the communities were encouraged to desist from act that could contribute to blockage of drainage channels such as dumping of refuse in drainage channels and making constructions over such channels. They were also encouraged to heed warnings on impending flood to forestall heavy losses of lives and property.
The MWAN team visited with gift items of rice, milk, cereals, biscuits, beverages, soap, sanitary pads, noodles,  insecticide treated nets, beddings, children and adult clothing and footwears which was shared to all present.
The team was welcomed warmly by the assistant female PG, Mrs. Ada Onuora, on behalf of the women President General Mrs Eunice Nwosu and the town rulers. She expressed appreciation towards MWAN Anambra for their humanitarian gesture. The women, who came out in large numbers, were elated.
The group expressed gratitude to all members and other partners who donated generously towards the visit, and also made out time to attend.