News
I reserved Soludo for National, Int'l Assignment, not Gov'ship – Obasanjo
News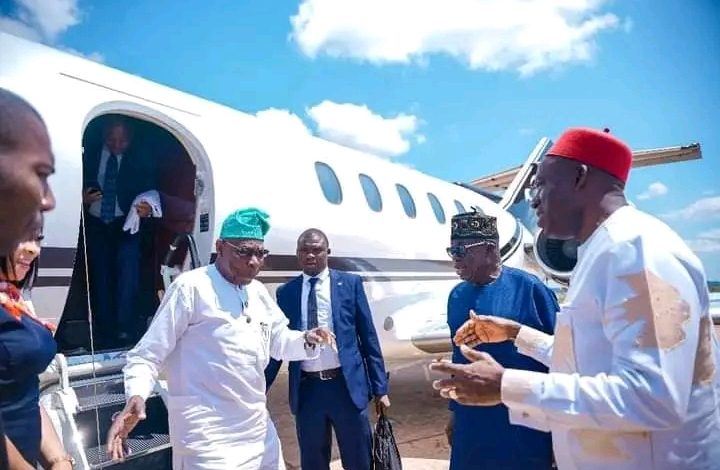 – Soludo reels out achievements in one year
By Ifeizu Joe
Former president, Chief Olusegun Obasanjo on Saturday said he didn't support Anambra State governor, Prof Chukwuma Soludo to become governor of Anambra State, initially.
He said he worked closely with Soludo while he was president, and was impressed with his loyalty and lofty ideas, and when he approached him to seek his blessings that he wanted to be Anambra governor, he declined, telling him he would be more useful in a national or international role.
Obasanjo stated this on Saturday, during a ceremony to mark the first year in office of Soludo as governor of Anambra State.
The former president said: "Soludo was close to me as economic adviser when I was president, and never mis-advised me even once. That was why I sent him to the Central Bank of Nigeria later on.
"Ngozi Okonjo-Iweala and Chukwuma Soludo were the best appointments that I made, while I was president.
"When Soludo came to me when he wanted to be governor previousIy, I didn't support him. Of course, I didn't disguise my anger towards him. I told him he should be thinking of something national or international.
"The experience I had of Anambra governorship then was that of Ngige and Chris Uba. I once told Soludo that this is what will continue to happen if people like him are running away from governance. So, when I told him I was disappointed in him going for governor, he also reminded me that I had earlier accused him of running away from governance. So, when he came back and told me he wanted to run, I told him he can go. I also told him – don't forget that I reserve you for national assignment, so you can use governor as an appetizer.
"From what I have heard and what I have seen, you have not disappointed me and I believe you have not disappointed the people of Anambra State. When you are done with this, you can think of something international, or national, that is where you belong," Obasanjo said.
Earlier, Soludo had taken time to reel out his achievements in the past one year of being the governor of Anambra State.
"Here, our mantra is 'doing more with less'. We want to build a state that everyone will be proud of and my children and great grand children will be happy to live in.
"We want to transform Anambra to a liveable and prosperous homeland, so that wherever we are, we will desire to be here. The Igbo man no matter where he lives always desires to be brought back and buried here when they die. But we want to build a place we will not only be happy to be brought back for burial, but that we will also like to live in.
"For me, I will be proud to live here, even when I am done with this job. The goodwill is here, the environment is getting better and we shall continue to strive to make it work. We only ask that wealthy Anambra people should help us by bringing back part of their investment. If we can get Anambra people in other states, who can pay their taxes here, then just sit back and see your money work for you," Soludo said.
He said that in one year as governor, he has employed 5,000 teacher at once, 3,000 health workers and constructed several roads in the state.
"Nigeria is a place where governors only employ massively when they are leaving office, but in one year, we have made many employments in the education and health sector, and we are planning more."
The event which was attended by several dignitaries from across the country, including prominent Anambra indigenes was held at the International Convention Center, Awka.