News
Ifeanyi Ubah tackles Soludo, calls manifesto "linguistic gymnastics"
Politics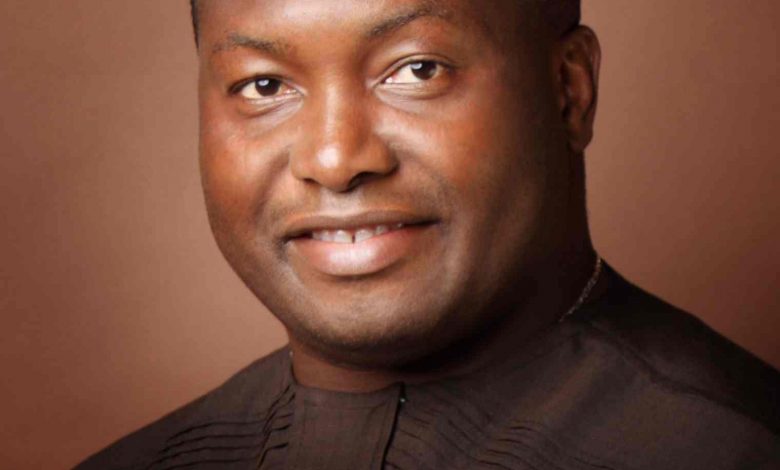 The governorship candidate of the Young Progressive Party, Senator Ifeanyi Ubah, has described the manifesto presented by the All Progressives Grand Alliance candidate in the November 6 poll, Prof Chukwuma Soludo as empty.
Describing it as a mere "linguistic gymnastics", Ubah asked the people of the state to be careful and cast their votes wisely.
READ UBAH'S FULL TEXT:
PRESS RELEASE
SENATOR IFEANYI UBAH IS VINDICATED AS PROFESSOR SOLUDO FINALLY BRINGS FORTH A HASTILY ASSEMBLED AFTERTHOUGHT AS MANIFESTO
INTRODUCTION
NDI ANAMBRA! Eternal vigilance is the only watchword for Freedom ! .
As the November 6th 2021 election draws nigh, we must remain vigilant enough to identity the difference between those who want to rule and those who want to serve Anambra State. Recall that at about three weeks ago, the Senator representing the good people of Anambra South in the 9th Senate, Sen.Dr. Patrick Ifeanyi Ubah presented his manifesto to Ndi Anambra both home and abroad for overview and readings. He also challenged the Professor of Economics, Charles Soludo to not only do same and but also pick a date for an open debate on the policies therein, a challenge that the Professor cleverly dodged.
We have waited earnestly for Soludo and APGA to present a working and public document upon which they desire to lead Anambra State for the next four years as the party in power, but nothing was heard or seen until the eve of their campaign flag off when the 72 paged document found its way albeit surreptitiously into the public domain. In reading the 72 paged document, it became clear that it was a hastily assembled document by a makeshift media team with only one mandate; bamboozle Ndi Anambra with bogus grammar, fictional data and Eldorado promises. Of course, this is not the first time Soludo will engage in this linguistic gymnastic ahead of election.
Recall that in 2010, Soludo released the most linguistic gymnastic eldorado theory tagged "AFRICAN DUBAI TAIWAN"- a document long reposed in the dustbin of irrelevance.
For a proper contextualization of the half truths and hasty assemblage of the Soludo's Manifesto tagged "The Peoples Manifesto", we present to Ndi Anambra a summarized critical exposé' of a grand plot to continue in the eight(8) years colossal failure of APGA government by a self serving and ego driven professor of economics.
DISMEMBERING PROFESSOR SOLUDO'S MANIFESTO DOCUMENT.
A. SOLUDO AND HIS OPENING QUOTES:
Soludo boasted that as the "Chairman of Anambra Vision 2070", he has carefully thought through the challenges…, a confirmation that Soludo had no earlier manifesto BEFORE SEN.DR PATRICK IFEANYI UBAH challenged him openly but was going to bank on the vision 2070 document to deceive Ndi Anambra again like Gov Willie Obiano.
In Further readings,
B.INTRODUCTION: Soludo introduces his contract with Ndi Anambra in such a hurry that he envisions a homeland which is a preferred destination to live,invest ,learn and work…but certainly borrowed those words from the limbo because he has no single investment in Anambra state Perhaps Soludo revisited his African Dubai Taiwan 2010 white paper and extracted his eldorado promises to suffering Anambrarians. Again, when he refers to a state in need of basic infrastructure as simple as good roads, as the best to be aspired to in every positive way in Nigeria /Africa and the world. In mumbling his introductions and struggling to provide a manifesto to Ndi Anambra, Soludo pandered into the idea of job creation and again hurriedly promised jobs, jobs, jobs as in the mold of typical politicians in Nigeria on the campaign Podium. In looking for the ways and real economist imprimatur on job creation indices, one would expect that a thoroughly prepared manifesto of Prof Soludo will be detailed and data oriented on how to create jobs for Ndi Anambra but no; he hurriedly assembled the manifesto and such a critical area like job creation was under the axe of 100,000 jobs per annum for our youths and 1,000 millionaires per annum as in Obi Cubana charity style ?
C. ON TRANSPORATION: Soludo promised cable model transportation to Ndi Anambra. Certainly he is not ignorant that this is not practicable because of power generation and logistical issues in distribution. The countless abandoned MOUs for power plants by the incumbent shows that this is another pipe dream.
D. ON HEALTH: Soludo claims he will introduce e-medicine to ndi Anambra. While this is plausible and lofty but poses great risk because Anambra State Government has no secured cloud server to protect personal health information security of Anambrarians. Suprisingly, Soludo hastily packaged the Drug Revolving Fund (DRF) without mentioning the source of seed funding and contingency with regards to expired drugs, damaged on transit drugs, storage for temperature controlled drugs etc.That these Eldorado promises on health is coming from a Professor Soludo that is yet to complete the building of Mgbafor memorial hospital started 13 years ago despite the huge donations in billions from well meaning Nigerians and corporate outfits while in office as CBN Governor, makes mockery of his capacity to deliver .
E. ON ECONOMY: Soludo summarily anchored his entire macro-economic rhetoric on the basis that he will borrow allegedly for bankable projects. He insists that he will grow Anambra State Development Fund(ANSDF) to the tune of 100billion($200Million) and certainly hides the source of raising the fund which will be crippling revenue drive and multiple taxations on poor artisans following the footsteps of the current incumbent. In a rush Gestapo style, Soludo added that he will spend the funds on supporting industries within Anambra State but lays no criteria for choosing or selecting these industries. He failed to mention any clear criteria for disbursement of the fund; perhaps the APGA practice of diverting state funds into crony accounts will be a continued legacy by the Professor of Economics.
F. ON ENTREPRENEURSHIP: His 1000 Youth millionaire is a scam and his 10,000 youth per annum is a further scam, considering that he lifted it from Willie Obiano's digipreneurship scam which failed to produce 10% of the projected figures.
G. ON GOVERNANCE AND YOUTH EMPOWERMENT: Soludo promised to increase the number of SAs and SSAs without commensurate portfolios or office thereby encouraging the waste of public fund and breeding of favouritism to party loyalists as against merit.
H. ON ROAD INFRASTRUCTURE: His PPP model on state and local government road construction is a buffer scam to return the tollgates all over Anambra State without any policy on gauge, standard and network connection of dilapidated roads under the current APGA government.
I. ON WOMEN EMPOWERMENT: Soludo committed one of the biggest blunder when he stated that he will continue with Osodieme' s CAFÉ as a model to drive women empowerment. CAFÉ is unaccountable and runs under the whims and caprice of the wife of Gov Willie Obiano. They surreptitiously collect huge donations and build latrines with few prosthetics for the camera and the rest of the fund goes unaccounted for. This certainly was a hasty assemblage from a man who never had any manifesto on such key area of governance. Akin to Rochas Okorocha's Ministry of Happiness then in Imo State, Soludo wants to create a similar ministry to divert tax payers' fund. He calls it FFB (Family First Bureau) which is simply a duplication of functions and conduit for embezzlement. Ministry of Women Affairs, CAFÉ and FFB are with one mission, one goal and will certainly create multiple leakages.
J. ON KEY CHALLENGES: It is very clear that the key Challenges and Strengths contained in the document were all copiously lifted from one source: Nigerian Bureau of Statistics (NBS) data base. We do not argue that such sources should not be quoted but to completely anchor the entirety of the real challenges of Ndi Anambra from a single data base is an evidence of a Professor who never had a manifesto until he was challenged to provide one.
Moreso, in a hurry, the number one key challenge of the document places Anambra landmass and population density as second only to Lagos. One wonders the veracity of these assembled assertions with existing data available. Even the quoted 900 active erosion sites becomes a source of worry, whether Soludo truly wants to solve Ndi Anambra problems by merely reading out figures without any attempt to recertify these data.
Perhaps in going through the entire Key challenges and plans of Soludo in the 72 paged document and the manner with which he hurriedly assembled figures and data where he could not lay hands on those of NBS, one could see the manifest ego play of sounding macro-economic at all times as if Anambra domiciles in World Bank or IMF while the real micro-economic issues bedevilling the state are left hanging in the document. But as Dr Ngozi Okonjo-Iwela warned us "Soludo is an embittered loser in the Nigerian political space" who is "so derailed" to "commit intellectual harakiri by deliberately misquoting economic facts and maliciously turning statistics on their head to justify a hatchet job".(2015)
K. ON HIS PLANS :Soludo groups his plans into 4 pillars and what is evidently worrisome is his third(3) pillar which is GOVERNACE ,RULE OF LAW AND VALUE. The summary of the readings shows a man who emerged from one of the worst and rancorous party primaries, promising what he clearly has no belief in . He tactfully infuses it in his makeshift document to confuse Ndi Anambra that himself and his party are ready to play by the rule and respect the law while there was abi intio no intention or regard for such respects.
IN CONCLUSION
Prof Soludo and his party prides themselves as grassroot oriented but one could search from the entire 72 paged document and yet cannot find any plan for the grassroot activities which usually anchors on the Local Government System. At no place in the so called manifesto of the people, did Soludo care to pay attention to our local government system and its effective means of policing, social derivations and security checkmates. Profesor Soludo also clearly has no intention of conducting local government elections. It is therefore clear that by using the 4 pillars that Soludo merely combined linguistics and figures while failing to give back power to the people. There was indeed no intention to give Ndi Anambra any manifesto which could have anchored on our experiences as a people and not our perceived experience as his document called manifesto heavily borrowed terms and figures from World Bank and other western institutions who are hell bent on impoverishing Africans with macro economic theories lacking in relevance to our peculiar situation in Africa !
The Manifesto is a lofty document and was assembled to dry clean the image of the Professor as an Economist who just wants to rule than serve his people.
The biggest give away in the hastly assembled document is the picture of the Professor posing for the cameras while pretending to buy ugu and fish from a market woman . This event which was trended by his media team as an image laundering tool to hide his renowned elitist nature merely took place two weeks ago .
WE URGE Ndi Anambra to be critical and wary of this document as Soludo is manifestly obsessed for Power!
Kamen Chuks Ogbonna
Head
Media and Strategic Communications to Senator Dr Ifeanyi Ubah