News
Imo records highest killings in South-East under Hope Uzodimma- Intersociety
News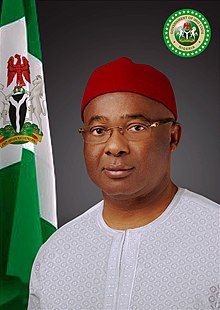 By Nwafor Okafor
Imo records highest killings in South-East under Hope Uzodimma- Intersociety
A rights group, International Society for Civil Liberties and Rule of Law (Intersociety) has decried the alleged killing of 14 persons in Awo Omamma, Imo State by those suspected to be the state's government security outfit, Ebubeagu.
In a trending viral video, the locals in the area were seen lamenting and calling the state governor, Senator Hope Uzodimma, unpredictable names following the incident about two days ago.
Reacting to the development,Intersociety in statement made available to journalists in Awka on Tuesday by its board of trustees' chairman, condemned the incident, describing the extrajudicial killings in Imo State recently as outrageous and unprecedented.
The group alleged that no fewer than 800 person had been killed under the regime of the state governor, Senator Uzodimma, while about 900 homes had been burnt/destroyed with his two year reign in the state.
It maintained that, "In the past 18 days of July 2022, the state security actor killings and burnings in the state, targeted at members of the defenseless civilian population have continued unabated-with at least 40 more civilians killed and several civilian homes set ablaze or destroyed.
" The State under Gov Hope Uzodinma had accounted for at least 840 civilian deaths in 20 months and 18 days if the last 18 days of July 2022 are added. Imo State also accounted for at least 80 communal invasions perpetrated mostly by soldiers of the Nigerian Military and their allied Ebubeagu Government Militia. The military attacks and invasion of the not less than 80 civilian communities in the State also led to burning or destruction of not less than 900 civilian homes mostly located in Oru East, Oru West, Njaba, Mbaitoli, Ohaji-Egbema, Oguta, Okigwe, Ideato North, Orlu, Mbaise, Owerri metropolis and so on.
While condemning the faulty foundation of Ebubeagu, Intersociety said, 'The outfit also became conformist channels through which fifth columnist counterfeiters and invading Jihadist Fulani Herdsmen invade and occupy Eastern forests, bushes and farmlands. In other words, the anarchist and atrocious "Ebubeagu Government Militia" have transformed into pro-Jihadist herdsmen and anti-Eastern territory and population militia. This is to the extent that they, in alliance with conventional security forces such as army and police personnel and their top commanders drafted to Eastern Nigeria, have been responsible for several hundreds of abductions and disappearances as well as thousands of property (defenseless civilian houses and properties) burnings, killings and maiming .
It added, "The International Society for Civil Liberties and Rule of Law (Intersociety), is strongly condemning the 18th July 2022 massacre of 14 natives and friends of Otulu Community in Oru West Local Government Area of Imo State by Nigerian Army-allied/trained militia Ebubeagu Government Militia, controlled and funded by the Hope Uzodinma-led Government of Imo State.
"From preliminary findings obtained by Intersociety, the 14 unarmed and defenseless citizens were shot at close range and massacred in neighboring Awo-Omamma Community in Oru East Local Government Area of the State when they were attending a traditional marriage in Awo-Omamma called Okwuoji. Scores of others were also injured. As if the above dastardly act was not enough, it was further reported that hours later, not less than 20 young men were abducted when the same Army-allied/trained Militia invaded a popular Betting Shop in Okwudor Community, Njaba Local Government Area of Imo State. The abducted victims were labeled "Unknown Gunmen", blindfolded and taken away to unknown destinations till now.
"The Awo-Omamma massacre of 14 and Okwudor abduction of 20 had taken place less than 24hours after the release of our international documentary that took place in USA and United Kingdom. The documentary had found that 'in the past 20 months or Oct 2020-June 2022, soldiers of the Nigerian Military and their allied/trained Ebubeagu government militia and other security agencies and agents including various police crack squads attacked 150 Communities in Eastern Nigeria, killed 1,360 defenseless citizens, burnt or destroyed 1,450 civilian homes, disappeared hundreds without traces, rendered 51,000 homeless and forced them out of their ancestral homes, burnt or destroyed or looted properties worth not less than N57bm and caused the loss of N600bn worth of trade and investments following the Eastern Military siege and atrocities".