News
JDPC Honours Obi, Umeh, Nwoye
News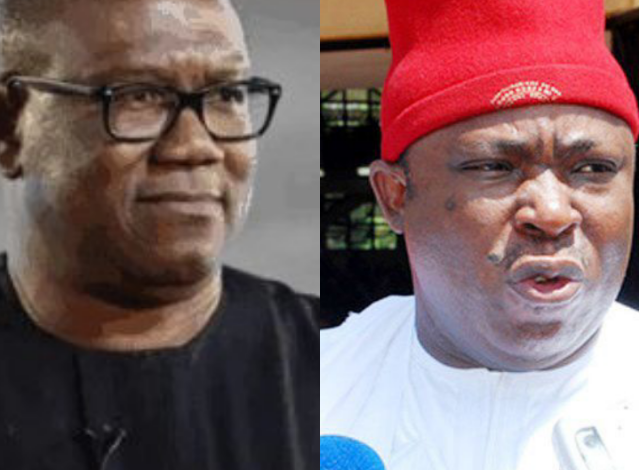 The Presidential candidate of Labour Party, LP, Mr. Peter Obi, Senator Victor Umeh, Hon. Tony Nwoye, among others, were Sunday, honoured by Justice Development, Peace and Caritas, JDPC, of Onitsha Episcopal Region.
Speaking at the occasion, the Onitsha Regional President of JDPC, Rotarian Cordelia Ifenyinwa Mba, commended politicians who came for the award bestowed on them for the humanitarian role they played towards the betterment of the Society.
She reminded them that the 2023 general election would not tolerate money politics adding that JDPC would be all out to ensure that votes would not be bought with money and that the votes must count.
She commended them for their financial contribution towards solving the JDPC problems that include, construction of permanent secretariat of the organization, money to assist the down trodden, among others.
Also speaking on politics, the Vice chairman/planning committee chairman, JDPC, comrade Vincent Ezekwueme said that docile followers precipitated docile leadership and unaccountable governance.
"Nigerians should hold their leaders accountable and ask questions on how their resources are being utilized by those in authority. It will be a step in the right direction for them to take their destiny in their hands by voting for God fearing, compassionate, capable and ready to make necessary sacrifices for the benefit of the second.
"It will be a step in the right direction for Nigerians to re enact the 1999 scenario in which presidency was ceded to Southwest, by zoning the presidency to the Southeast, to douse political tension and assuage the long cries of marginalization," he stated.
Receiving the award as Grand Pillar of JDPC, Obi, who was represented by the former chairman of Onitsha South Local Government Area, Hon. Ugochukwu Ezeani, said that JDPC has been in the forefront towards making life bearable for the people and evangelism .
He said that Labour Party has come to alleviate the sufferings of Nigerians and urged the people to ensure they voted for Obi.
In his contribution, Sen. Victor Umeh, candidate of Labour Party, for Anambra South Senatorial District, urged the people to vote Obi to better their condition.
Those who graced the occasion included, Hon. Tony Nwonye, Commissioner for Petroleum Resources, Tony Ifeanya and Retired Justice Veronica Umeh, who was represented by Barr. Nkoli Ebede, among others.