News
Kanu is being tortured in DSS custody, IPOB alleges
News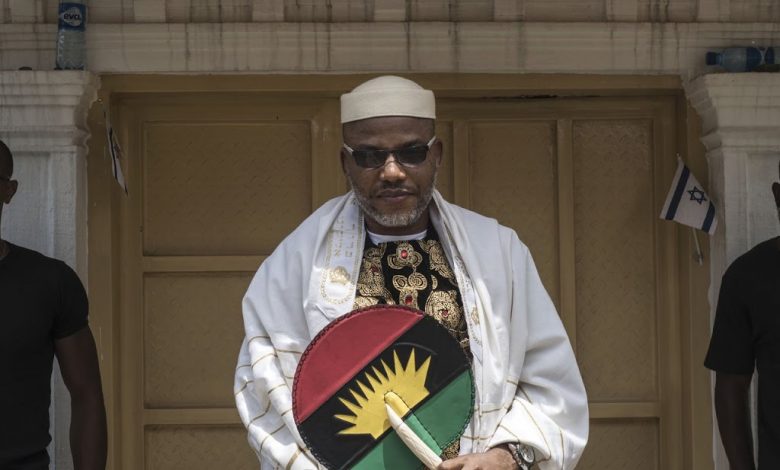 By Nwafor Okafor
The Indigenous People of Biafra has alleged that its leader, Nnamdi Kanu, is being subjected to psychological trauma and torture in the confinement of the Department of State Services ( DSS) in Abuja.
The secessionists said this on Saturday in a statement circulated by its media and publicity secretary, Emma Powerful.
It accused the DSS agents of continued flouting and violating the existing court orders by justice Binta Nyako concerning Kanu.
The statement reads,"We the global movement and family of the Indigenous People of Biafra (IPOB) ably led by our great leader Mazi Nnamdi Kanu wish to reiterate our displeasure once again over the deliberate, permanent and insidious psychological torture being committed against our leader Mazi Nnamdi Kanu in contravention of UNHRC and all other International Human Rights laws and principles in DSS confinement and torture facilities.
"There abound obvious and utter disregard by DSS on the existing laws and thereby consistently flouting the court ruling that Mazi Nnamdi Kanu deserves an interface with fellow human. Solitary confinement is a torture under UN Law. Justice Binta made a court order that Mazi Nnamdi Kanu should be visited twice a week, Mondays and Thursdays by his lawyers, family members and visitors of his choice. We want to make it known to all and sundry that our leader Mazi Nnamdi Kanu is now being allowed to see his visitors for only 30 minutes in contravention of the competent court order that approved two hours per visit by his lawyers and family members.
"We want to remind DSS of their required obligations some of which are to abide by stipulated Court Orders and procedures in handling all matters associated with Our Leader Mazi Nnamdi Kanu so as to minimise unforseen circumstantial consequences should anything goes wrong.
"We are making a public call and open invitation to the International Community, Amnesty International, Embassies, Governments, Intersociety and NGOs including all reputable Human Rights Organisations to monitor the gross violation of all known fundamental human rights of the Leader of IPOB and all other illegally incarcerated IPOB members in Nigeria.
" It's no doubt that Biafrans especially Igbos race and their religious worshippers are racially profiled and discriminated against in Nigeria by DSS. That's is why notorious terrorists and bandits from the North can kill and commits all sorts of crimes and never get arrested but innocent and unarmed Biafrans especially Igbos including old men and women are indiscriminately arrested, tortured, incarcerated and forcefully disapered without trace by this lawless DSS and their sister security agents.
It added that, "The Geneva Conventions of 1949 and their additional protocols of 8 June 1977 contain a number of provisions that absolutely prohibits torture and other cruel and inhuman treatment that DSS mated on Mazi Nnamdi Kanu and other individuals especiall IPOB members.
The group said the DSS director must know that Nigeria was not a Fulani property and would not be, warning that ,"If anything goes wrong with Mazi Nnamdi Kanu in Nigeria's DSS solitary confinement or custody they will know that IPOB members are not push over, and the consequences will leave for generations.
"Men and women of good conscience and lovers of humanity across the world should advise the Igbophobic, Biafraphobic and Nnamdiphobic Nigeria Agencies against future irreparable consequences that awaits the younger generation.
"May we reemphasize that we'll not accept any stage-managed attack by DSS agents targeted at Mazi Nnamdi Kanu, we have earlier pointed out such stunt upon reception of Intel by M-Branch."