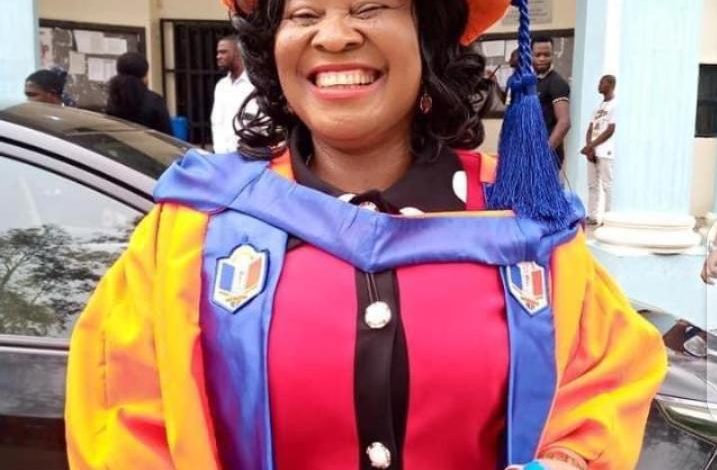 She is a seasoned administrator who won the 2022 Presidential Award of the Best Administrator in Nigeria. She is the present hard-working principal of Abbot Girls Secondary School, Ihiala which happens to be her Alma Mater. In this interview with ADA NWANAGUM, Dr. Mrs Chukwunedum discussed her success strategy and her strength to pursue and attract a renowned philanthropist in her jurisdiction.
Let's get to know you Ma'am.
I am Dr. Mrs Chukwunedum Sabina, the principal of Abbot Girls Secondary School, Ihiala, the best administrator in Nigeria, 2022. It's a presidential award that came with a Suzuki car gift and a cash prize of one million naira from Anambra State government. I am a native of Ihembosi town in this same Ihiala LGA, married and blessed with lovely kids.
How did you gained the attention of High Chief Stanley Chukwudi Obodoagwu, Ezeudo Gburugburu to your school?
Ezeudo of a truth is a humanitarian, a philanthropist to the core, I have been hearing of him and how he helps people, how showcase and exercise his tittled name "Okpata Ozuo Oha". Then I said to myself that I won't wait for him to come to me, rather, I looked for somethings he could do for me and set out to look for him so he could come help my school and my students. So, I have involved him in the school activities for about a year now and he has been of a great help to us. There is a sport house here in the school that is names after him, "the Ezeudo Gburugburu" House and he did wonders during our last annual Inter-House sport that we embarked on with almost nothing and he's still doing more. Because I believe that one good turn deserves another, I decided to take my students to go condole with him during his father's burial this April. To show his happiness for our presence, he promised to take 10 indigent students on scholarship up to the University level. He has also promised something tangible to this school even before now; he promised that he will renovate the ICT Hall but because of the insecurity in this area, especially Ihiala, he has not visited and the project has been on hold.
Believe it or not, if we can get like five philanthropist like High Chief Stanley Chukwudi Obodoagwu, our educational system here will change because we have some indigent students who are very good, skilled and intelligent but cannot pay for their school fees some even have dropped out of school.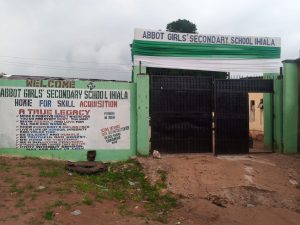 Let's come down to your school, what makes Abbot Girls Secondary School exceptional to attract….?
You see, leadership makes difference. If you want to check the tune of any school, first check the heads especially the principal of that school. I approached Ezeudo for about two years back but he did not actually respond, but after I won the presidential award of the best administrator in Nigeria, I started disturbing him again and this time he listened to me. So I think what actually attracted him more is the fact that he found out that I am a hard-working principal crowned with a national award.
How long have you been the principal and what achievements have you recorded so far?
God has helped me to record many achievements because I know it's not by man's making or power. I start at Community Secondary School, Lilu in Nnewi North LGA in 2017 to record greatness. I was the principal that attracted the community 'bigmen' to fence the school, I also initiated a skill acquisition scheme in that school because I wanted the students to be job creators instead of job seekers when they graduate. I made the community administrators and philanthropists to be involved in the development of the school and I achieved that cordial relationship with the community members to the extend once I asked for something they will try to make happen for me. It went to the extent that one of their philanthropic son, Onowu Chidi Nwanunueze single handedly built the school library for me at the school. Another person also built two classroom blocks still in the school. In terms of writing, I have written about 20 International journals, two educational books that if you google my name, Chukwunedum or Ihuaeze Sabina, you will surely see something to write about me.
So, from that achievements at Lilu, the then commissioner for education, Hon Prof. Kate Omenugha pulled me out after giving me the name, "the Creativity Principal" she said to me "My creativity principal I'll transfer you to Abbot Girls that is already collapsed so that you'll do a transformation magic there because I know you can do it". Funny enough, she never knew that this school (Abbot Girls) is my alma mater, I graduated from this same school in 1982 and I am the first student to become a principal in the school. I wept bitterly when I was posted here as a principal, seeing the dilapidated and collapsed environment I couldn't believe this to be that Abbot Girls secondary School that I know and passed through. But because I am not afraid of work, I said to myself that I will do what we call turn around and put in my very best to bring back the glory of Abbot Girls secondary School. I know that anywhere I set in my foot there must be goodnews and anything I touch must look like gold, it's a God given gift to me.
It was when I came into this school that the staff room was renovated, I renovated the hostels, bought generator set for lightening, bought ceiling fans, renovated the staff quarters where more than 10 room collapsed because and most staffs do come to work from outside the the school which is not supposed. Immediately I came here, I used my meagre salary to graduation gowns for my students and that made Abbot Girls the only secondary School in Anambra State that has a customized graduation gowns of their own. When I went to CSS Lilu I had a total of just 46 students but before a year, I recorded up to 240 students and here in Abbot Girls, the has also increased even though it's not to my expectations and satisfaction, and know it because of this insecurity in Ihiala but I will keep you the good works till I get a desired height.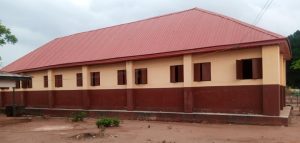 What are the challenges you are facing at the moment amidst all these achievements?
Apart from the glaring achievements I recorded here, I am still faced with some problems I need to tackle and one of them is the lack of water supply in the school, our school borehole got damaged beyond repair. Although High Chief Stanley Chukwudi Obodoagwu (Ezeudo Gburugburu) has promised to renovate our ICT building, it's a problem to as in the state it is now because the students are lacking behind in their ICT trainings. Another on is the principal house which has also collapsed, the principal being the chief security of the school is supposed to live inside the school premise. How I wish we more capable hands like Ezeudo who can help in all these renovations, things will actually change for the better. In addition, inside our examination hall has completely collapsed, I just painted the outside to cover up and make it look a little good to the eyes especially when a visitor comes in.
What actually is the State government doing to improve the quality of education in Abbot Girls Secondary School?
Well, the State government is trying its own best in its own capacity, at least they recruited and posted about 13 teachers to this school. Before then, we were lacking teacher, we were under staffed. But with the posting of this teachers the school has stepped up a bit.
Aside the private request you're making from individual, philanthropist and humanitarians, is there any other request you seek from the State government?
Yes o, many other things. First among them is fencing of the school. Here is a girl school and we have hostels and students staying in them, most time some of these village touts come here to molest the students. So our first priority is fencing, our school lack fences and I can not ask individuals to come fence a government owned school. We also need a very good and well equipped library with modern seats and desk, our refetory needs good dinning table and chairs. Then our exam hall needs modern equipments too.
Finally, your word and prayer for High Chief Stanley Chukwudi Obodoagwu.
One word I have for him is that he should keep being himself and not to let anyone or any situation change him or what he stands for, and my prayer for him is that God will continue to protect him, guide him and that no weapon formed against him that will prosper. God will continue to open a new river in the desert for him and his generation shall never lack. As he continue to give people so shall God continue to enrich him and his pocket will never get dry.
By Ifeizu Joe
Send an email
April 24, 2023