Human Interest
NGO Pledges to Fight Child Abuse, Begs Nigerians to Report Cases
Human interest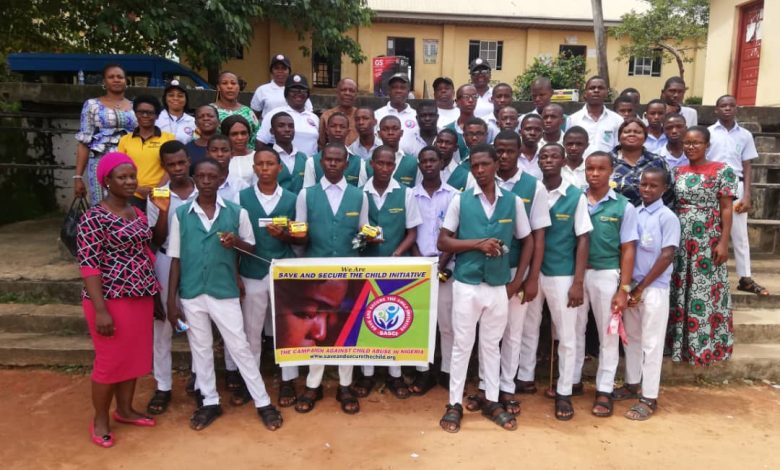 By Ngozi Chiadikaobi
Mr Kingsley Obi , Anambra coordinator of Save  And Secure The Child Initiative has called on the public to report any case of child abuse to the organisation across the country.
Obi said in an interview with THE RAZOR reporter in Awka on Wednesday
He said that Save And Secure The Child Initiative prides its self in campaign against child abuse in Nigeria  and urged the public to contact the body on 08037128785
Obi said that they have handled case of child abuse across the country ranging from rape, child molestation ,domestic  violence ,child neglect amongst others.
He said that the body is a group of volunteers mainly driven and united by their altruistic passion to give the Nigeria child a voice against the incessant abuse they are subjected to on daily basis.
Obi said that they are moved by empathy and compassion to contribute their resources  towards saving the abused male or female child who over years across Nigeria in recent times been victims of myriad of premeditated abuse in many homes, schools amongst others.
"These abused children are often without a voice and we have decided to be their voice.
" We as a group are bent on raising one deep sustained, resilient, assertive  voice  for these abused voiceless children, standing up our voice as a banner of righteousness against the evident evil of child abuses tarring us in the face of today.
Obi disclosed that Save and Secure The Child Initiative was a brain child of  Mr Ken Ikwunne ,a Nigerian based in the Republic of South Africa .
He said that the body was  registered is a Non-Governmental  Organsiation in March 2020 by Ikwunne, Obi himself and Paul Anaezeofor but it is wholly owned by every member of the organisation with equal vested interest.
He said that the Save and Secure The Child Initiative, The Campaign Against Child Abuse in Nigeria is a Cooperate Affair Commission registered NGO in Nigeria  and also with the Anambra State Ministry of Women Affairs.
He said that the have handled over 40 cases of abuse across the country namely a case of rape of a 10 year old girl by a 16 year old boy which they saw that the case was reported to security authority and all medical expenses handled by his parents.
Obi said that a case of 12 year old girl raped by a man of 45 year old  and three sisters  aged 8,6 and 4 years defiled by a young man of 20 years  it was also handled conculsively.
He said that they have handled a case of 16 year old girl defiled by her own father,the case was handled and every needed medical care needed was cared for by the group.
Obi said that cases of domestic  violence  and battery against a 15 year old girl we became her voice and justice was given her and many other related cases we successfully handled.
Obi said that Ms Ifeoma Okolo-Nwoye is the state  Deputy Principal , Mrs Chinwe Ikwunne  state Registrar, Ms Nneka  Aniemenam state chamberlain, Chioma Nwankwo state Exchequer and Mr Osita  Ejiofor state publicist ,Priscilla Anazor  state deputy exchequer