Anambra Media Gist
Nimo holds meeting, explains Ana Owa matters to populace
Community news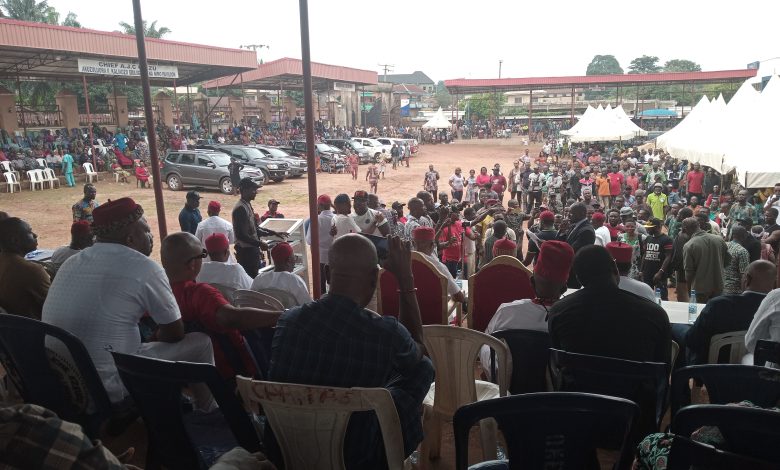 By Tony Okafor, Awka
The Nimo community in the Njikoka Local Government Area of Anambra State on Saturday held a town hall meeting to enlighten the populace on the progress of work on Ana Owa estate.
During the meeting, leaders of the town, including the President General, Ikenna Okafor Omabu, Onowu Nimo and a former Chief Judge of Anambra State and Peter Afuba, a Senior Advocate of Nigeria ( SAN) and a former Attorney General of Anambra State took turns to educate the people on Ana Owa matters
Both men and women of the community attended the meeting at the community's ancestral village square known as EGWE EGWE.
Speaking first, the traditional ruler of Nimo , Owelle Ike Oliobi welcomed the conferees, and thanked the Nimo Town Union leadership for facilitating the meeting.
He said, "I don't have much say today. Thanks to the Nimo town union. All of us have the interest of the town at heart. I will tolerate good and bad comments. Many have insulted my personality but I accept everything because I'm the head. Everybody should air their opinions in this meeting. It's through discussion that feuds can be resolved.
The monarch expressed happiness with development in the town, stressing that everybody should be involved, adding,"Nobody is a better Nimo than the other."
Speaking, a former Chief Judge of Anambra State, Justice Godwin Ononima, took time to give a short history of Ana Owa.
He said Owa was previously an autonomous town that fizzled out due to conquest.
He said Owa people had misunderstanding with Ndi Nimo that involved poisoning of large number of Nimo children by Owa people .
He said Nimo convened a meeting after that incident and sacked Owa people and took their land which later had be referred to Ana Owa .
He said Owa people dispersed ,adding that no individual person owns any land in Owa, rather Nimo people had to decree that the Owa land be generally used farming .
Continuing, Ononiba said, "Dissent is part of society. Nothing will stop our progress. Disagreement will be there for our growth. Disagreement is part of life.
Be free to ask questions and we shall give you the answers to the best of our ability".
Also speaking, Peter Afuba corroborated Ononiba's history of Ana Owa, saying that in 1932, Nimo won a litigation against Nzukwu Abate on the land and permanent took over the land.
He said the decision of plotting and selling the land to Ndi Nimo for development began when a technical committee was set up in that respect by the community.
He said the land was about 1362 plots but only 94 plots had been sold to Ndi Nimo for various development projects.
Speaking on behalf of the youths, who somewhat had misgivings about the management of the land by leaders, Dr Valentine Ike Olibi( Ikemba), urged the trustees of the land to carry the youths of the community along in their decisions to avoid unnecessary skirmishes.