Column
Nkeiruka Nwode: Making positive difference in uniform
Opinion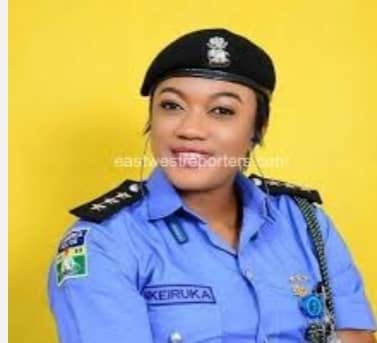 In every generation, God raises people for the achievement of His purposes for mankind. The actions of such people over time culminate in history which is studied by posterity. Therefore, history is basically the enlarged shadows of men and women who stood up for humanity at critical moments. The Nigeria Police Force (NPF) insists that the "Police is your friend". Because of the many odds stacked against personnel of the force, that beautiful and hope-inspiring slogan has lost its meaning and is turning into a lame cliché.
Bad elements in the force often compound the situation by throwing the rules of engagement and human empathy overboard in order to extort unwary and hapless masses that they encounter along duty lines. However, it is heart-warming that the story of the NPF does not end with the bad eggs that the force under IGP Usman Baba Alkali is working hard to rout. Nkeiruka Nwode, a Superintendent of Police and pioneer Police Public Relations Officer of Nigeria Police Force, Zone 12, Dunukofia, Anambra State, is by all standards, one of the shining stars of the Force.
This Ebonyi State-born officer and lady came into limelight when she became the first female Police Public Relations Officer for the Anambra State Police Command. This perfect blend of beauty, brains and brawn harnessed all her faculties for diligent discharge of her duties which principally involves taking the police command to the world and bringing the world to the police command.
A thick line of commitment arising from passionate love for both the force and humanity ran across Nkeiruka Nwode's activities in her line of duty. This suited her duty as a bridge between her command and the general public; and the balance she struck between the two in the discharge of her duties was responsible for the successes she recorded on the job. After watching the dexterity of this cerebral female police image-maker in her official outings, a human resources manager remarked that it was difficult to determine whether it was Nkeiruka Nwode that chose the job she was doing or it was the job that chose her. While this Amazon was still serving as PPRO of Anambra State Police Command, the new Zone 12 of Nigeria Police Force comprising Anambra and Enugu State Police Commands was created. The reward for good work, they say, is more work.
So, the mantle of PPRO of the new but strategic zone fell on this superfine officer. That her promotion to the rank of Superintendent of Police came while she served on this beat was sufficient proof that she discharged her duties well. Another thing going for this elegant officer is her involvement in charity. She is not just a crime buster; she is equally a good investor in humanity. Through her charity works, she has continued to wage wars against poverty in the lives of the less privileged and to demonstrate unmatched inner beauty which supersedes her outward appearance.
As a young lady to whom nothing is too big to be given out, Nkeiruka Nwode has built modest modern bungalows for some aged and economically-challenged widows in different communities in Ebonyi State. In what an observer termed effective preventive approach to crime control, Nkeiruka Nwode redirects to positive industry youths who could have been swayed into crimes by poverty.
This she does by giving them reasonable en-couragement and support in their educational careers and providing their out-ofschool counterparts with start-up capitals to enable them engage in business and pursue economic independence. Nkeiruka Nwode's shower of the milk of human kindness has equally fallen on many young ladies and aged widows whom she supported with business startups or aided to set up profitable business outfits. Need one mention the periodic distribution of food items and other necessaries to the needy during festivals and some other important periods.
Nkeiruka Nwode is successfully collapsing the web of stinginess and misery woven around operatives of the force; and the unique thing about her charity works is that her beneficiaries are not related to her and do not even see her. She does not see them too because she has an army of dedicated volunteers who fish out the needy; and deliver her interventions to intended beneficiaries religiously.
Consequently, many beneficiaries of Nkeiruka Nwode's large heart and people of goodwill have taken to various social media handles to respectively celebrate and convey profound gratitude to their benefactress. Hence, the social media celebrity which Nkeiruka Nwode has become. Like every fruitful tree, many stones have been cast at SP Nkeiruka Nwode.
Prominent among which was the attempt of a local blogger to paint her with inglorious tar. Her traducers were obviously envious of her well-earned career progressions and the humongous goodwill generated by her sacrifices for the good of humanity. Having been vindicated, she is hereby enjoined to remain focused on her service to both her country and humanity. Nkeiruka Nwode who holds great promises for her generation is every inch a fine officer and Good Samaritan in uniform. Her best is yet to come.