Politics
Obi, Abaribe drum support for Ozigbo, Say He'll Be Strong Voice for Igbo
Politics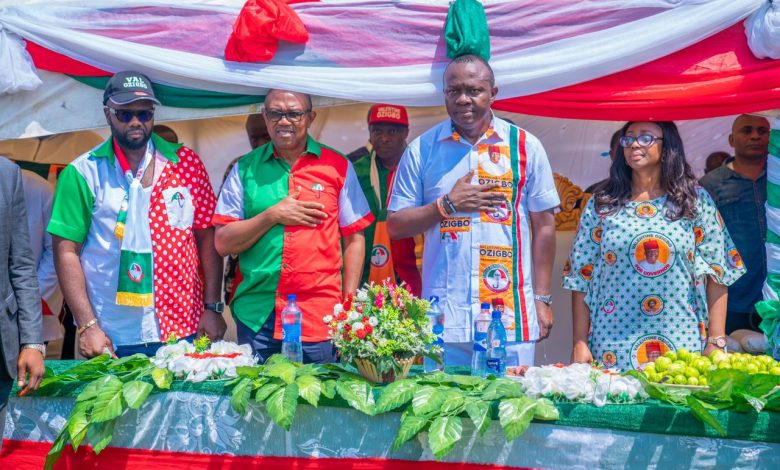 Former governor of Anambra State, Mr Peter Obi and the Minority Leader of the Nigerian Senate, Senator Eyinnaya Abaribe, have drummed support for the flag-bearer of the Peoples Democratic Party (PDP) in the 2021 Anambra governorship election, Mr Valentine Ozigbo.
The duo who joined Ozigbo on a campaign to Onitsha said he will be a strong voice for Ndi Igbo.
Abaribe who spoke at made the popular Ogbo Ogwu Market in Onitsha said he has always been a defender of the Igbo cause and will continue to ensure justice for Ndi Igbo, and that he has confidence that Ozigbo had same traits.
He said: "When Nnamdi Kanu was granted bail, I stood surety for him because I believe that he is one of us and deserves humane treatment.
"Ndi Igbo need more voices to speak up and fight for what is ours. I am only one voice, and I assure you that Ozigbo will be another voice that will ensure that we are not treated like second-grade citizens," Senator Abaribe said.
Adding his voice, Former Governor Peter Obi, said he shared Abaribe's views. He added that the November 6 Anambra governorship election would determine the lot of Ndi Igbo in the coming years.
Obi further added that Ndi Anambra must align with the PDP, which has always protected the interest of Ndi Igbo, and will negotiate for their interest at the centre.