Politics
Obi Declares 2023 Presidential Bid, Vows to Restore Peace in Borno, Other Crisis Areas
Politics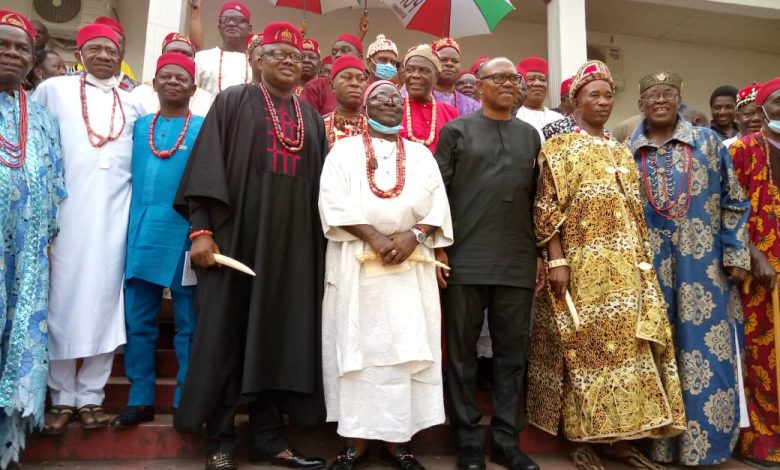 By Nwafor Okafor
A former governor of Anambra State, Peter Obi, has declared his intention to contest for the position of the president of Nigeria in 2023.
Obi disclosed this at the conference hall of the Anambra State Government House on Thursday in a meeting with traditional rulers and Presidents General of town unions in the state.
Stating that he would contest the position with all his might, Obi said he came to take anointing from the royal father's and Community leaders as the custodians of the people's customs, tradition and mandate.
He said," I have come to inform you as my fathers that I'm into the 2023 presidential race. I'm contesting it with all my might.
" I have studied Nigeria; and I'm convinced that I have the capacity to fix it.
Obi who was the running mate to the former Vice President , Atiku Abubarka in the 2019 presidential election said,
"Before coming here, I had notified the Governor, Prof Charles Soludo of this meeting. After studying the country, I'm here to inform you of my political ambition in 2023.
"I was the running mate to Atiku in 2019, but now, I am coming out for the President, well prepared. I must also thank you for your representation in your various communities.
"We need unity and peace for the development of Nigeria. We need security to attract local and foreign investment, to make Nigeria work.
"My Government will invest in critical areas of development, such as education, health and other key areas. What Nigeria needs is people with capacity and efficiency to manage the resources effectively.
" I have the capacity to manage the resources judiciously and move the economy of Nigeria from consumption to production. I am a Nigeria and believe in Nigeria."
Obi maintained that he would reenact the excellent governance he bequeathed to Anambra State to the larger Nigeria.
Earlier, the Senator representing Anambra Central at the National Assembly, Senator Uche Ekwunife had described Obi's 2023 aspiration as an emancipation of Nigeria.
She called for massive support and encouragement from Nigerians to embrace the peace and development the former governor Obi would want to entrench in Nigeria.
Some of the traditional rulers who spoke, including the traditional ruler of Mbaukwu, Awka South LGA, Igwe Peter Anukwu, the traditional ruler of Umueri, Anambra East LGA, Igwe Ben Emeka among others described Obi as the best things that could happen to Nigeria as her president.
The ceremony was attended by scores of members of the National and state House of Assembly, former commissioners in the Obi Administration, amongst others