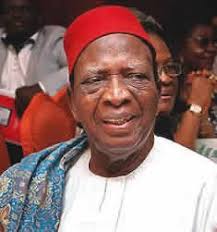 Former Governor of Anambra, Gov. Willie Obiano has commiserated with the people of Ogbaru, Anambra and indeed, the entire Igbo race over the demise of a legal luminary, Prof. Ben Nwabueze.
Nwabueze, passed on October 29, 2023, at 94; he was a respected figure in the legal community.
Obiano said his contributions to the development of Constitutional law in our country will always be remembered.
In a press statement by his publicist, Mr Tony Nezianya, Obiano said: "We are deeply saddened by the news of his passing. Prof Ben Nwabueze's dedication to upholding the principles of justice and his unwavering commitment to protecting the rights of individuals have left an indelible mark on our legal system."
The full statement read:
Our thoughts and prayers are with his family, friends, and colleagues during this difficult time. May his soul rest in eternal peace.
A renowned constitutional lawyer, Prof. Nwabueze was a Senior Advocate of Nigeria (SAN), who served humanity and the Igbo nation in varied capacities including being the pioneer Secretary-General of Ohanaeze Ndigbo.
He was the Oduah Afo-na-Isagba of Atani, Anambra State.
Born in 1931, the SAN was an inspiring academic with interesting public service pursuits.
He once served as a Senior Lecturer at Holborn College of Law, London, and Senior Lecturer at, the University of Nigeria Nsukka, between 1967 and 1970.
In 1971, he was Dean, of the Faculty of Law, University of Zambia and Director, of the Law Practice Institute, Zambia, 1973 – 1975 Prof. Nwabueze earned his Doctor of Laws (LL.D) at the University of London in 1978, based on his three outstanding books–Constitutionalism, Presidentialism, and Judicialism, thus entering the record books as the second (since the death of Dr. T.O. Elias), the only Nigerian and African holder of a higher doctorate in Law by published works.
He was indeed the first academic lawyer to be made a SAN in 1978 strictly based on his published works.
He was a member of the Senate of the Universities of Lagos, Dar es Salaam, Nairobi, Haile Selassie in Ethiopia, Lesotho, Botswana and Swaziland between 1971 and 1978.
Prof. Nwabueze had served as University Assessor for Academic Appointments, at the Universities of Ghana, Lagos, Ife (now Obafemi Awolowo University), and Jos between 1978 and 1979.
Nwabueze was a recipient of several chieftaincy titles and the Nigerian Order of Merit.