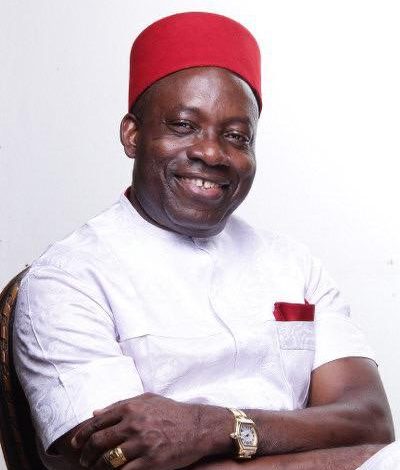 The Anambra State Governor, Willie Obiano, has described the erstwhile Central Bank governor, Prof Chukwuma Soludo as a man with the Igbo spirit .
In a message to mark Soludo's 61st birthday, Obiano said the ex-CBN governor had achieved so much "despite losing his mother at the callow age of eight and having a father who was a mere driver in a local company".
"This is a typical Igbo story; a determination to not only succeed but also excel in different endeavours" Obiano said in a statement by the Commissioner for Information and Public Enlightenment, C-Don Adinuba .
On account of sheer brilliance, hard work and God's grace, Obiano said Soludo became Nigeria's most successful and revolutionary CBN governor, a full economics professor at 38 and author of several books, articles and conference papers across the globe.
The statement said Obiano spoke at a low-key but impressive birthday ceremony for the former CBN governor at his ( Obiano's) Aguleri residence which was attended by the Speaker of the Anambra State House of Assembly, Chief Uche Okafor; Soludo's running mate in the November 6 poll, Dr Onyeka Ibezim; the chairman of the House of Assembly Committee on Budget, Obinna Emenaka, among others.
The statement read in part, "For someone who attended a primary school in Isuofia, then a rustic town without basic amenities, and later high school in Uga, both in Aguata Local Government Area, it is an achievement of great proportions that he became the only African thinker and scholar chosen as a member of the United Nations Panel of Experts to Review the Global Financial System in the wake of the 2008 global recession".
"Soludo remains very humble in spite of his international achievements. He brought a CBN branch to Awka, and as a result not only helped to develop our state capital but also saved our people the time and resources and risks of going to places like Benin and Enugu to bring cash to banks in the state.
Responding, Soludo noted that Anambra had the lowest poverty index and the lowest unemployment rate in the country.
He said, "As far as education, rate of rice development, immunization, security, the fight against COVID-19 and other areas are concerned, Anambra State has no serious rival".
He pledged to build, if elected governor of the state in the November 6 poll, on the existing foundation for rapid progress built put in place by Obiano.