Politics
Obiano, Okorocha, Nwosu may appear on Uzodimma's January list as IPOB sponsors
Politics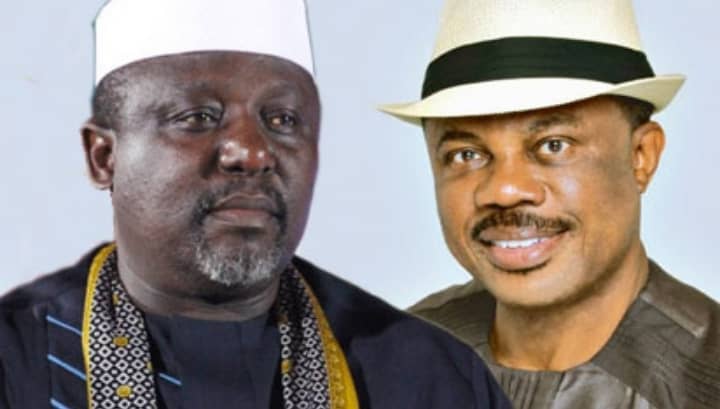 Our Correspondent
The Indigenous People of Biafra has alleged that the Imo State governor, Hope Uzodimma, will publish the names of his political opponents as IPOB sponsors on January 3,2022.
Media and Publicity Secretary of the secessionist group, Emma Powerful, disclosed this in a statement made available to our correspondent in Awka, the Anambra State capital,on Wednesday.
The Imo govenor had vowed to reveal the identities of sponsors of insecurity in the state on January 3,2022.
He said 18 suspects arrested by security agencies had named their sponsors, promising to reveal their identities and roles at a stakeholders meeting on January 3.
The Anambra State governor, Willie Obiano had once alluded that the insecurity in Anambra in buildup to the November 6 governorship election was been sponsored from Imo State.
Political pundits are of the opinion that it wouldn't be a surprise to them to see Obiano's name on the Uzodimma's list as a payback.
"It's possible because the man(Imo helmsman) is a mad man," John Ikenga said.
But IPOB in the statement on Wednesday warned the Imo governor to stop targeting his political opponents by tagging them sponsors of IPOB.
Describing Uzodimma's libeling style as laughable, IPOB called him " a totally confused man".
The statement read in part,"The attention of the global family of the Indigenous People of Biafra (IPOB) has been drawn to the laughable statement from Hope Uzodinma, that he would expose sponsors of IPOB in Imo State. The statement only confirmed Uzodinma as a totally confused man.
"It is only shameless traitor and political Esau like Hope Uzodinma that does not know that IPOB is a self-sponsored global movement. We have no single sponsor from anywhere because no single individual has the capacity to bankroll this movement.
"In case Uzodinma doesn't know, IPOB is not like a political party that depends on god-fathers to exist. We don't accept donations from politicians and even the Uzodinma knows this.
"If we accept donations from politicians, Uzodinma himself would have been one of our sponsors but he is disappointed that we are not swayed by money. We have never hidden our sources of sponsorship: members of this great global family willingly and gladly finance the movement.
"We don't really owe mindless traitors and political slaves like Uzodinma any explanations on our source(s) of existence, but we feel obliged to make these explanations because we know his antics.
" He has already concluded plans to implicate some of his political opponents, and the only fastest way to accomplish such evil mission is to brand them sponsors of IPOB.
The IPOB statement added,"The only crime commited by the innocent people including some traditional rulers that Uzodinma intends to implicate was that they told him to stop killing Imo youths.
" Anyone who is courageous to ask Uzodinma to halt the ongoing carnages and bloodletting in Igboland by the hoodlums he recruited have automatically become sponsors and financiers of IPOB.
"Imo people should atone for their sins against God that made God allow this affliction called Uzodinma to be imposed on them by the Supreme Court headed by Fulani bandits."