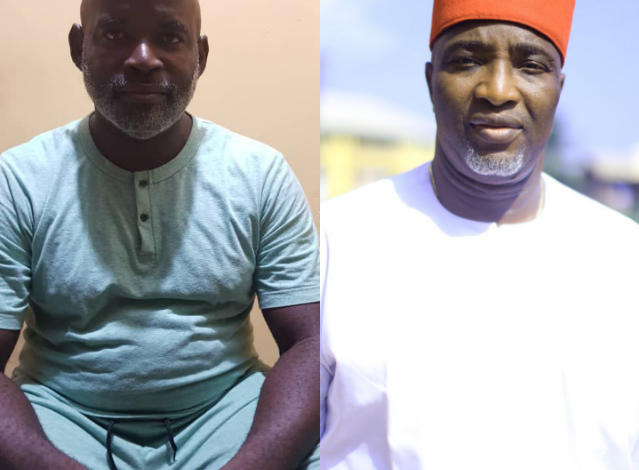 ~ Wife raises the alarm over husband's health
Police in Abuja, the federal capital territory, have arrested a journalist, and publisher of 247ureports, Mr Ikenna Ezenekwe.
Ezenekwe was arrested by police, working on the instruction of the former Chief of Staff to ex-Governor Willie Obiano, Mr. Primus Odili.
The Abuja-based journalist was arrested on Tuesday at about 12:43pm at a site where he was, before some policemen in mufti stormed, arrested and whisked him away in a twinkle of an eye.
Ezenekwe had first taken to his Facebook page to announce his arrest with a number of posts, where he also stated that he was being detained on the instruction of Odili, a former senatorial aspirant in APGA.
A source close Mr. Ezenekwe's family revealed that the policemen refused to explain to them the reasons behind his arrest, but only simply told them that there was a petition against him, without telling them whom or where the said petition came from.
"They took him to Police Headquarters at Louis Edet House, Area II, Abuja; and it was there they disclosed to him that the petition was from Anambra and from Primus Odili (former Chief of Staff to Obiano) for a libelous publication, citing a story he (Ezenekwe) wrote and published on 13th May, this year," the source said.
Meanwhile, Mr Ezenekwe's wife, Mrs Nkeiruka Ezenekwe has raised the alarm over the state of health of her husband, revealing that Ezenekwe has been unwell, and has been on medication before he was arrested.
She feared for her husband's health, stating that since his arrest yesterday, he has not been allowed to take his medication.
She told THE RAZOR NEWS: "I fear for his health, he is sick and has not taken his medication since his arrest. His offence is bailable, and up til now, they are still keeping him."
Another family source said Ezenekwe was later transferred to Maitama Police Station, Abuja, where he spent the night, while revealing that Primus said he believed that it was his enemies in the Government House that told him (Ezenekwe) to write the story, and therefore insisted that he should mention the names of the people behind the story.
"They said they know the people who told him to write the story, but want him to mention their names by himself; and insisted that they would continue to detain him there until he mentions names," the source added.
An Anambra based lawyer, Barr Chukwudi Mba has however condemned the detention of Ezenekwe, saying that the best thing to do was to take him on bail, while also noting that no law compels a journalist to disclose his source.
"Odili should drag the journalist to court and stop molesting him unnecessarily. If what he wrote is not true, let him take him to court and jail him. Must he be told the source of the story?
"What Odili has done by insisting on knowing the source is showing the world that the story is true, and only wants to know the source so he can fight him, but a journalist has the right to protect his source.