News
Ofala: Ohanaeze felicitates Obi of Onitsha, commends his pragmatic focus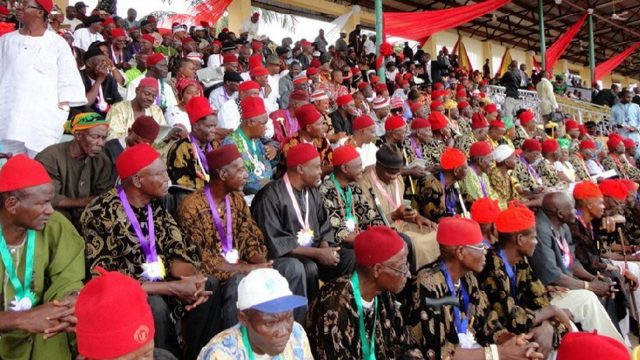 By Polycarp Onwubiko
The President General Ohaneze World wide, Chief Dr. Engr. Emmanuel Iwuanyanwu, (Aha eji eje mba), CFR, OFR, MFR, has felicitated with HRH Majesty, Nnaemeka Alfred Ugochukwu Achebe, CFR, mni ,Agbogidi, Obi of Onitsha on his 2023 Ofala festival.
Iwuanyanwu who was represented by Anambra state Ohaneze Ndigbo chieftains including Emmanuel Okafor retired Director of Account, etal and led by Elder Dr. Nnana Egwu, commended the elegant and ancient Onitsha Kingdom as ably being piloted and polished by His Majesty Alfred Achebe for the past 22 years on the distinguished Throne with the social glamour and majestic grandeur and wished him many more years of robust physique and radiant health.
Dr Nnana Egwu further congratulated His Royal Majesty for his pragmatic focus on community development and socioeconomic Programmes to empower the Onitsha youths to make them profitably engaged in skill acquisition in sync with Governor Chukwuma Soludo's Youths' 2 Skill acquisition development paradigm.
In his message, His Majesty, Alfred Achebe, who described the theme of the 2023 Ofala festival as "Better, Stronger, and Together", listed his achievements since 21 years on the Throne and commended "The Onitsha Advancement Foundation (OnAF) for its doggedness in initiating and implementing the articulated plans, programmes and projects to assist the state government in its development trajectories to make Onitsha a model in civilized urban growth and development.
In his remarks, the Governor of Anambra state, Prof Charles Chukwuma Soludo who came with his amiable wife and daughter, hailed Igwe Achebe for his creditable leadership and his efforts to help the state government to uplift the living standard of the inhabitants of the Onitsha metropolis and what he described as "the greater Onitsha comprising five local government councils namely Onitsha north and Onitsha south, Ogbaru, Idemmili north, and Oyi.
The ebullient Governor said that Onitsha will move forward hence the massive infrastructural facilities and projects, clearing up of the blocked drainages, opening the Okpoko slums and ghetto, desilting blocked drainages, getting rid of Agboro and advising them to enroll in the 2-Youth Skill per youth acquisition programm and sanitizing the sprawling ancient urban centre to "make it liveable and the pride of Ndigbo".
The glamourous occasion featured traditional dances of Ndi Ichie Onitsha, Otu ODU women troupe with prominent personages namely the presidential candidate for Labour Party, Mr Peter Obi, the clergy, Vice Chancellor ancellor of Paul university, Prof Obiora Nwosu, accompanied by top university officials like Prof Stella Okunna, Ikechukwu Abana, Hausa Community in Onitsha,