Education
Ojukwu University gets 18 new professors
Education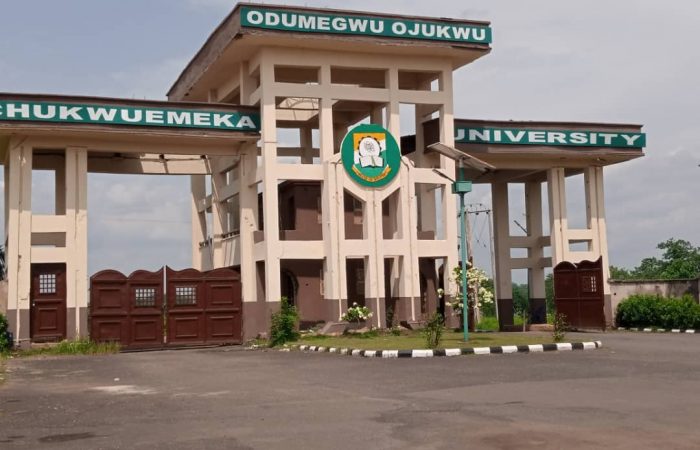 By Tony Okafor, Awka
Anambra State-owned tertiary institution, Chukwuemeka
Odumegwu Ojukwu University has promoted 18 senior lecturers to the rank of professors.
The institution's Public Relations Officer, Dr. Harrison Madubueze announced this on Thursday, stating that the elevation of the university's teachers was sequel to the decision of the University Council.
Amongst those promoted were Chinedu Igboeli of the Department of Mass Communication; also promoted to the rank of Reader/Associate Professor was Dr. Frank Nnaemeka of the Department of Mass Communication.
The PRO's statement read partly, "The Appointments and Promotions Committee of Chukwuemeka Odumegwu Ojukwu University, Anambra State has in her 73rd Meeting held on Tuesday 25th April 2023, promoted a total of 18 Academic Staff of the University into the ranks of Professor.
"Those promoted include; Dr. Kelechi Ezeji of the Department of Architecture, Dr. Jessie Chukwunulu – of Banking and Finance., Dr. EthelMary Dim – of Business Administration; Dr. Akinpelu Babayemi – Chemical Engineering; Dr. Cyril Obi – Economics; Dr. Ngozi Madu – English; Dr. Ifeoma Udoye – English; Dr. Ugochukwu Orajaka – Entrepreneurship; Dr. Innocent Okoye – Internal Medicine; Dr. Enright Okorie – Law.
"Also on the list include; Dr. Norbert Agbanu – Library and Info Science; Dr. Chinedu Igboeli – Mass Communication; Dr. Cyril Ezeanyeaku – Obstetrics & Gynecology; Dr. Rose Onyekwelu – Public Administration; Dr. Anselem Nweke – Public Administration; Dr. Stella Obasi – Science Education; Dr. Chijioke Agbasiere – Theatre Arts; Dr. Anthonia Umezulike – Vocational Education; and Dr. Joy Okeke-Ezeanyanwu- Vocational Education.
"Similarly, a total of Seven (7) Academic Staff were promoted to the ranks of Reader/Associate Professor. Those on the list include; Dr. Agnes Nwakama – Anatomy; Dr. Ikechukwu Asika – English; Dr. Anthonia Ezeugo – English; Dr. E.N Ugwuonah – Geology; Dr. Frank Nnaemeka – Mass Communication; Dr. A.I Gbasouzor – Mechanical Engineering, and Dr. I.H. Iheukwumere – Microbiology.
The PRO added,"In attendance at the meeting was the Anambra State Commissioner for Education, Prof. Ngozi Chuma-Udeh, the Vice Chancellor, Prof. Greg Nwakoby, the Deputy Vice-Chancellors, Prof. M.O. Ananti & Prof. Osita Chiaghanam, the Registrar, Sir. Chris U. Obi, the Ag Bursar, Mr. Nath Udezo, the Ag Librarian, Dr. Mrs. Uche Enweani, the University's Internal Council Members, Deans of Faculties, and Directors of Units".