Column
On Wike and Gov Sim: Mbosi Amuru Dike K'Amuru Ibeya
News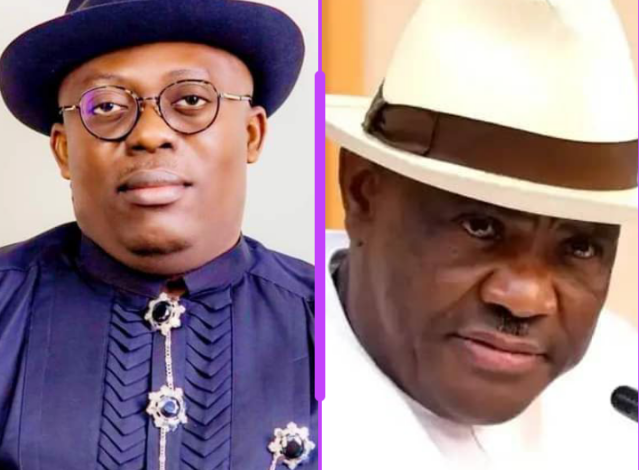 By David-Chyddy Eleke
Igbo people have a popular saying, "nwoke n'ibeya ra bu n'onu. Loosely translated, this means that all men are only equal on the lips. Meaning that all men are not exactly equal, some are more equal than others (apologies to George Orwell, author of animal farm).
On the other hand, another Igbo saying goes: Mbosi amuru dike na mba, ka'muru ibeya. The lose translation is that all men have balls, and one should not claim to be more male than the other.
For many Igbo sayings and proverbs, there are counters. I like to stand on the second saying to urge Rivers State governor, Governor Siminalayi Fubara to gird his loins and stand firm as a man, as his fellow man, former governor, Nyesom Wike seeks to run him out of the governorship seat.
Permit me to digress. In Lagos State, when now President Bola Tinubu sought to stop his 'boy', then governor, Akinwunmi Ambode from going for a second term because the governor was unhappy with Jagaban's voracious demand for money, I wrote and advised Ambode to be a man.
I remembered reminding Ambode of the story of the tortoise, who was arrested so very easily by some people. He begged to be dropped on the ground, and after scratching the soil at the spot of his arrest, he told his captors to take him. His captors asked him the significance of what he just did, and he replied that anyone who came to the spot, will see the marks of his resistance on the ground, and know that he tried his best.
But you know what? Ambode refused to fight. He was so very easily taken off the government house, like a small fly.
Again, in Edo State, former governor and national chairman of APC, Adams Oshiomhole sought to play the role of godfather like Tinubu did and still doing in Lagos. I also wrote same way as I did for Ambode, and advised Edo State governor, Godwin Obaseki to stand up to Oshiomhole. Mbosi amuru dike na mba, ka'muru ibeya. He stood up to him and today, Obaseki is still governor, and his traducer, Oshiomhole has gone into oblivion. Today too, Ambode has gone into oblivion, and his godfather has continued to blow bigger.
Fight no good sha, but if your fellow man says he must disgrace you, put your feet on the ground and fight him with everything you have.
As we watch the drama in Rivers and the unfolding events, I want to remind Governor Sim Fubara that Wike does not have more than two balls. If Wike himself was a weakling, former governor Chibuike Amaechi would have run him out of town.
I remind Fubara that, mbosi amuru dike na mba, ka'muru ibeya. He should be reminded that he is the executive Governor of Rivers State. Let him not hesitate to use everything within his power to fight this battle, including selling Rivers State, to prosecute this battle, and buying her back later.
It is better to fight and lose, than to sit down and let your fellow man dispossess you of what you have. Wike is a rascally fellow, and I urge Fubara to activate his own rascality. No man has a monopoly of it.
Eleke is an Anambra based journalist, public affairs commentator and critic.