Column
Opinion: 'The Ekweremadus Deserve Pity not Criticisms'
Opinion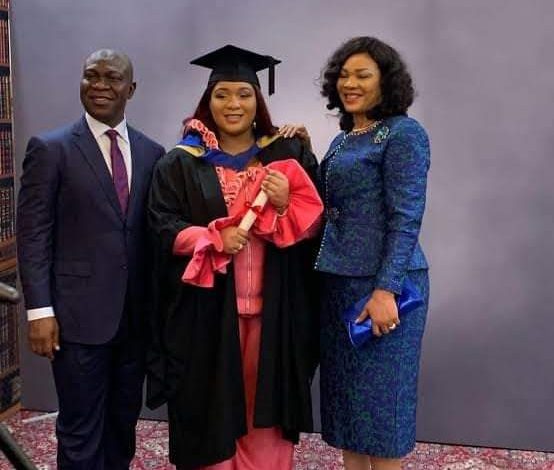 By David-Chyddy Eleke
True. Former Deputy Senate President, Dr Ike Ekweremadu, his wife Beatrice Ekweremadu and even their doctor, Dr Obetta deserve our pity and not criticisms at this very trying period of their lives.
Just to situate this piece properly, the Ekweremadus have a sick daughter, Miss Sonia Ekweremadu, who suffers renal failure. She needed the donation of a kidney to be alright. The parents set out to have one donated to her, but the British government didn't quite approve of the donation procedure, as Ekweremadu had brought a Nigerian commoner, David Nwamini into their country to harvest his organ, to replace their daughter's.
The Ekweremadus have gone through extensive trials in the UK, and have been found guilty, and are awaiting sentencing presently.
Since after the news of their being found guilty, many write-ups have surfaced online, some by haters, accusing Ekweremadu of corrupt enrichment, diversion of funds meant for the setting up of a renal centre in University of Nigeria Teaching Hospital, Enugu. There have even been some about how Ekweremadu dispossessed many of his relatives of their landed property, and how those relatives who he had sought to relegate to the background, upon his rise, later made it and ganged up to finance the litigation against him in UK, to the point of the conviction he awaits today.
I have some very compassionate Nigerians too, who have made write-ups, saying the Ekweremadus deserve pity at this point in their lives, and how criticisms were the last thing they needed. Some write-ups have said they should rather be seen as heroes, for their efforts to save a sick child. A friend of mine wrote and said Ekweremadu should even be praised for the very desperate steps he took to help out his sick daughter. My friend wrote on social media: "Only a father who has never had a sick child, will claim not to know the level one can go, to get their child healthy again."
In truth, there is nothing as worrisome as having a sick child. It can send one nuts. But only a nut will begin to think of how to use another man's child to save theirs.
I thoroughly feel for the Ekweremadus, but sadly, UK courts don't read social media postings, especially from handles owned by Nigerians, before passing judgement. The trial has gone on since last year, and this year, the 'UK COURT, NOT NIGERIA COURT' found our brother guilty. I truly feel for this couple.
Beyond our pity for this nouveau riche couple, who has spared any pity for David Nwamini, the guy who was trafficked (no longer allegedly) to UK, for his organ to be harvested? No one has asked where he is now, how safe the place is, what he does now, if the information of being trafficked to the UK for his organ to be harvested has caused him any trauma or not?
Thankfully, the UK is not like Nigeria, and from the few international channels I have read his news from, he is always being refered to as a survivor.
Back to the Ekweremadus. I pity them. I will not criticize them, I will rather pray for them to serve peacefully and return here in good health. I know how desperate one can get in trying to save a sick child. But in trying to save our sick children, may we never seek to kill another man's child, to keep ours, lest bigger men kill ours to keep theirs.
Nwamini the victim is a lowly young man, said to have been 'hustling' in Lagos. The promise of a brighter future may have excited him just like every young person. He cannot be blamed for falling for a rich family that sought to help him.
But again, how do we feel when we seek to terminate one life, to validate another? Rich or poor, every Nigerian born in Nigeria today, gets issued same birth certificate, recognises by the country.
Some may be rich to the point of owning properties everywhere, going on vacation every two months to any part of the world, and enjoying a life of luxury. On the contrary, others may be poor, living in squalor, but no matter their poverty, they still thank God for their lives, and wouldn't want to lose it for any reason.
For Nwamini, he may be poor, but I'm sure he would not want to live his life by half measure. As a Lagos hustler, living probably in one slum, I'm sure no matter how bad things are, he would be happy and fulfilled if he saved up N10,000 and visited one bar beach in Lagos, even if it is once a year. Life is precious. It is for the rich and the poor alike, and no one would want to give up their for another; especially as a typical Nigerian believes that – tomorrow go better.
Two things would have happened to Nwamini if his organ had been harvested. He would have either lost his life if it failed, or he would have survived and gone ahead to live by half his full life. He may even live happily thereafter, but avoid lots of what he cherished in life.
In all, if the boy had not consented to donating his organ, then I'm happy for him for escaping losing one. For the supposed organ recipient, Sonia; I'm sure by now someone has very willingly donated one to her as deemed fit by the UK law, and I pray the transplant goes successfully (or may have been gone well). I pray that she goes ahead to live her life to the very fullest.
As for the Mr and Mrs Ekweremadu, and their doctor Obetta, I pity them. I will not criticize them, I will rather pray for them to serve peacefully and return here in good health, to continue their normal life. But there is a lesson to be learnt in this.
Eleke is a journalist based in Anambra State.