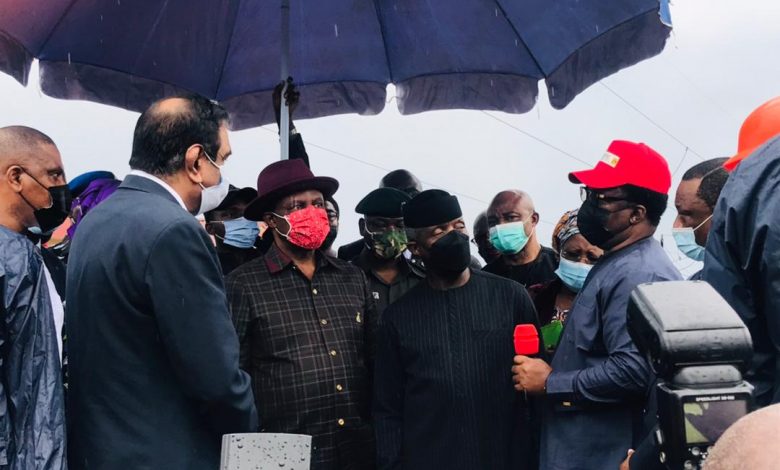 The Vice President, Prof Yemi Osinbajo, has assured completion of Federal Government projects in the South-East.
Osinbajo also restated Federal Government's commitment to improving commercial and economic environments in the region.
Osinbajo spoke on Tuesday at Ogbunike in the Oyi Local Government Area of the state while opening a multifunctional and digital leather industrial hub jointly equipped by the federal and state governments.
He said the commissioning of the facility was to ensure that small businesses got opportunities to sophisticated equipment.
He assured that both governments would not relent in making the area conducive for investment.
He said, "The Federal Government has fulfilled its promise to equip a one-stop-centre that will house ultramodern industrial shoe making hub with cutting edge technology.
"The shared facility is geared towards the enhancement of industrialization drives in Anambra State in the area of shoe and other leather production."
Osinbajo who also commissioned the
Agu-Awka injection substation, at the state capital during the visit, commended the state governor Willie Obiano for driving economic development in the state, stressing that economy of Nigeria depended on the aggregation of the good work done in the composite states.
The VP said Anambra state revenue rose from N10bn plus to N26bn plus due to the enabling environment and measures introduced by the governor.
While stating that the economy would develop through small businesses powered by the states, Osinbajo said since creation of Anambra State about 30 years ago, industrial activities grew which led to the installation of a 132/33 kva installed in Awka, stressing that the one commissioned would serve as an upgrade of the existing one, which would make the airport business more effective.
Minister of Trade, Investment and Industry, Mariam Katagum described the commissioning of the project as a step in the right direction, reiterating the federal government willingness to empower Nigerians.
The State governor, Willie Obiano highlighted the economic benefits of the complex, including job creation for hundreds of small businesses, with a corresponding huge impact on the state's Gross Domestic Product.
He said the facility was equipped with the latest technology for shoe making, adding that the process of manufacturing shoes in the state was f automated from start to finish in comparison with the highest shoe making processes in advanced world.