Politics
Ozigbo takes Odimma Anambra campaign to America
Politics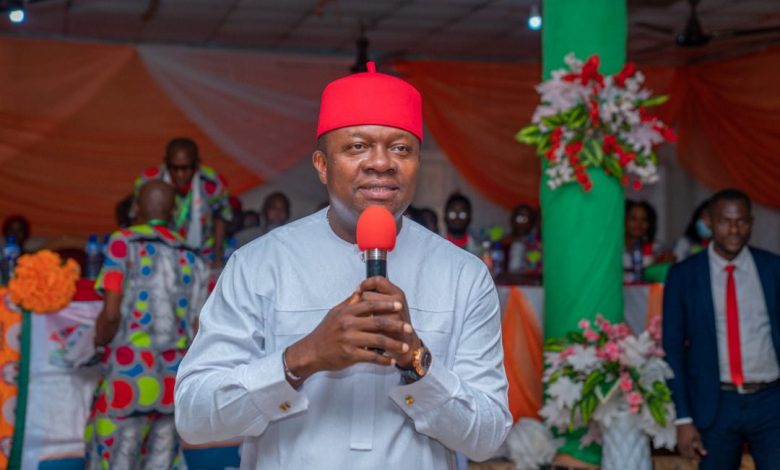 Valentine Ozigbo, a frontline politician, and a Chieftain of the Labour Party from Anambra, has set a new Leadership and development agenda for Anambra at the grand event of ASA-USA National Convention.
The event held at the Marriott, Atlanta, on Saturday, October 14, 2023.
Ozigbo's postulations witnessed an inspiring and rousing accolades from the attendees of the event.
Ozigbo, a multiple-award-winning global CEO, former transcorp boss and 2021 Anambra Gubernatorial Candidate, in recent times have been seen as a beacon of hope for the future of Anambra. The theme of the conference, 'Unity, Progress, & Transparency: Making a Difference Through Medical & Education Mission', touched on areas of concern especially on leadership and development of Anambra State.
In his address, Ozigbo painted a vivid picture of Anambra's potential. Drawing from global success stories and contrasting them with the challenges faced by black communities, he presented a compelling case for unity, resilience, and visionary leadership.
"In unity, we find strength; in diversity, we discover our richness and in our collective purpose, we unearth progress," Ozigbo told the Anambra Diapora in the United States of America.
"The Anambra Diaspora doesn't just represent our state's voice abroad; it epitomises the embodiment of our state's potential."
Ozigbo, further stressed that the Anambra Diaspora needs to re-examine its interventions at home. Calling for an expanded vision for the south-eastern state.
"While our interventions have been commendable, we must question, have they been transformative? Addressing surface-level problems might provide temporary relief, but addressing root causes can transform destinies," Ozigbo continued, calling for a higher standard in leadership selection.
"Rich countries are not wealthy because of their tangible assets alone but because of their intangible wealth – the institutions, the rule of law, the educational systems."
"To change the trajectory of our economy and the future of our state, we need more than just good intentions; we need visionary political leadership.
"When it comes to selecting leaders, it's not just about promises made, but about character displayed, processes adopted, and the platforms represented.
Ozigbo, the founder of the eponymously named Valentine Chineto Ozigbo Foundation, also provided a blueprint for transforming education in Anambra State. Referencing his 2021 Ka Anambra Chawapu Manifesto, he called for a transformational approach to education.
"Education isn't just about information; it's about transformation. And in this transformation, technology and modern tools play an indispensable role," Ozigbo declared.
"For Anambra to rise, we must not just equip our schools with tools but empower our students with the right mindset.
"It's not enough to hope for a better Anambra; we must work, innovate, and collaborate to create it.
"We stand at a juncture of incredible potential and opportunity. Let's aspire for more, achieve more, and above all, let's do it together," he added.
The response from convention attendees was overwhelmingly positive. Onyi Erinne, ASA-USA Board Chairman, had high praise for Ozigbo's speech saying that speech was "very educating and inspiring for us the newly elected board of directors executives for Anambra State Association, USA".
Prof Osita E. Aka, the immediate past Caretaker Chair, ASA-USA, while commending Ozigbo for his vibrant and articulate understanding of issues as it affects Ndi Anambra said,, "We were glad to have Mr Valentine Ozigbo at our Anambra State Association, USA (ASA-USA) Convention in Atlanta from October 13 to 15, 2033, as the Keynote Speaker.
"Ozigbo's speech was marvellous, fantastic, and well-received by everyone at the hall.
"As the Chairman of ASA-USA, I will request once more for Hon. Ozigbo to come back and speak to us. We really enjoyed his presence."
Dr Vincent Izuegbu, the Convention Chair, commended Ozigbo and opined that it contained the right message for the association.
Izuegbu said,"It came at a crucial time in the life of our association. Ozigbo's submission on the four P's (Personality, Platform, Process, & Promise) of leadership spoke to heart of what is needed in charting a new course for the organisation."
A defining moment of this convention was the historic peaceful transition of power, marking a significant milestone for the organisation. Chief Prof. Ebenezer Aka, who led the caretaker committee, gracefully handed over the reins to the newly elected executive committee under the leadership of Onyi Erinne, the ASA-USA Board Chairman.
This transition stood out, particularly given the backdrop of years of power struggles within the organisation. The smooth handover is a testament to the renewed spirit of unity and collaboration emphasised during the convention.
The convention's main organisers, including Dr. Vincent Izuegbu, the Convention Chair, Isaac Emefo, ASA-Atlanta President, and Dr. Emmanuel Oduah, ASA-Atlanta Convention Committee Chair, expressed satisfaction with the direction the event took.
Apart from Ozigbo, the convention featured other notable speakers, such as Dr. Daniel William, who spoke on the subject of "Black on Black Crimes."
Additionally, a discussion on the "State of Affairs – Ohaneze Ndigbo World Wide" was presented by Ichie Damian Afam Okeke, the Vice President General of Ohaneze Ndigbo.
Major sponsors for the convention included Flutterwave and LakePoint Resort & Gardens LTD.
In all, the ASA-USA Convention in Atlanta was not just an event—it was a turning point that aimed to drive actionable change for Anambra's brighter future.