Column
RE-ALIEN ULOKA CHIBUIKE: SOLUDO IS FLAUNTING HIS FAILURE SHAMELESSLY
Opinion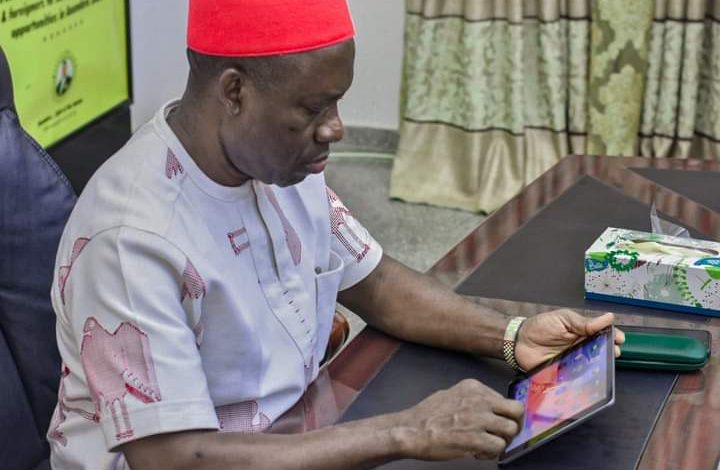 By ULOKA Chibuike
Recently, Christian Aburime, the Chief Press Secretary to Governor Charles Soludo, on the instructions of the Anambra State government house, unleashed a violent verbal attack on me in an attempt to shut me down from my lawful deposition regarding the misruling APGA government of the day. While I find such an attack unpleasant, it calls for worry and questions about whether Professor Charles Soludo is truly a democrat or a dangerous pretender to democratic inclinations.
I have yet to be informed of my offense that violates the laws of the land, which would justify the Chief Press Secretary's and the Anambra State Government House's torrent of assaults, venom, and threats against my person.
In their press statement titled 'Pathetic Ranting of Alien Uloka Chibuike Against Soludo Govt.', CSP Aburime couldn't hide his inferiority, mediocrity, and illiteracy but delved into the gutters to expose further the failure called Charles Soludo.
In the press statement, I had expected Aburime, being the Chief Press Secretary to Governor Soludo, an office where information regarding the activities of the Governor is domiciled and made handy for naysayers, would, at least, educate me on my ignorance and feed the public with facts and evidence to differ from my claims of Charles Soludo being a failure. Aburime, instead, went berserk with vitriol and attacks, hence validating that Soludo has been more than a failure in the last 19 months.
For me, facts have always been obstinate things; no matter what our desires, preferences, or feelings may be, they are powerless to change the truth or the evidence.
Truly, I was unfair to Muhammadu Buhari when I likened him to Charles Soludo in my piece titled, "Everything Buhari Was in 2015, Soludo Is Working Hard To Become Worse"—such was an unfair representation of Muhammadu Buhari, as he too would frown over the bankruptcy and deficiency of Professor Charles Soludo in the last 19 months.
While reading the press statement of the Anambra State government to see the exploits of Charles Soludo in the last 19 months, which would be enough to counter the issues I raised in my analysis of Soludo's 19 months in office, it was disappointing to find that even the aides of the Governor are empty and helpless, hence their resort to vitriol and personal attacks and an attempt to clog the opposition.
In his lengthy and vitriol-filled statement, Aburime failed miserably to mention Charles Soludo's big and significant achievements or to reject charges that Soludo was running an organized family tree using state and taxpayer money, with his in-law as de facto governor.
Aburime claimed that Soludo had flagged off over 400 kilometers of roads but failed to list where these roads were being constructed and their progress reports.
In his attempt to sugarcoat his lies and deceit, he tagged me as an alien living in a different plant other than Anambra State, yet thousands of Anambra residents lament over failed roads daily and how it negatively impacts their businesses and activities. Perhaps only those who sycophant around Agu-Awka have information regarding the reported 400 kilometers of roads for which funds have also been made available, but nothing is seen across the state.
In the last 19 months, no road projects have been completed or commissioned by Charles Soludo's administration.
On security, Aburime, in his usual comic claims, responded that Charles Soludo had phased out insecurity in eight local government areas of the state previously captured by UGM. Yet, in local government areas like Ihiala, Ekwusigo, Aguata, which is Soludo's LG, Ogbaru, Oyi, Idemili, Awka North, and Ayamelum, most communities are seriously under siege and on ghost town. Only yesterday, October 15, 2023, a livestock farmer, Ginikachukwu Okeke Ezeakonobi, was reportedly gunned down by non-state actors at Ihiala. Such have remained the tales and woes of the residents and indigenes of Ihiala, who now live in constant fear and would resort to self-help for safety. The story is the same across Anambra State. The death tolls from insecurity in Anambra State are unimaginable, as it has become a daily occurrence, yet Charles Soludo collects Two Billion Naira monthly as security votes from the state coffers.
The half-educated Aburime, whose response on behalf of the Anambra State government and vituperation against my person must have been provoked, not by logical thinking but by his disappointment in being a faliure of various standards.
The unfortunate Aburime highlighted the employment of five thousand (5,000) teachers as the notable accomplishments of Charles Soludo in 19 months. Obviously, Aburime ignored or is ignorant that Charles Soludo sacked over fifteen thousand (15,000) teachers whom his predecessor employed under a PTA partnership across public schools in the state. These teachers, who are most qualified and had begun working as teachers, were sacked without pay and subjected to emotional torture. They served the state, and rather than get rewarded, Soludo chose to use them for cheap political points, only to revert to re-employing a mere 5,000, abandoning 10,000 others in despair. Not even Buhari or the worst of leaders could attempt such a low in our recent history.
Amongst other landmark projects and programs of the Charles Soludo administration are the distribution of palm seedlings and a pseudo-5,000 youths trained in the jamboree 1Youth 2Skill. Perhaps the above encapsulates the Dubai-Taiwan economy of Charles Soludo. It is shameful to allude to the least.
To be fair, skill acquisition has never been the challenge for the young people of Anambra State, given our age-long history of excellence and apprenticeship, but financial strength and startup kits to mitigate the biting economic reality in the country today. Rather than declare the loans and grants interventions offered so far to the victims of Charles Soludo nebulous and opaque 1Youth 2Skills, Aburime instead decimated Soludo as being short on ideas and not in tandem with today's reality. Charles Soludo's 19 months in office can only be described as a scam and a generational error.
In the 2021 campaign manifesto of Charles Soludo, he stated boldly and further affirmed during his swearing-in speech that his administration would create at least 100,000 jobs and over 1,000 millionaires annually. It was a promise and contract to the people of Anambra State who voted for him on the backdrop of these campaign promises. I had expected Christian Aburime to address this concern and give an update on the efforts of the government to deliver on these promises and contracts to the Anambra people, but he instead went offensive and preferred the use of gutter language to vilify my person for demanding accountability from a public servant who had repeatedly claimed that he applied for the job of governor and that the people of Anambra State employed him.
In the last 19 months, the unemployment and poverty statistics of Anambra State have surged, which is evident in the number of crimes and social vices recorded in the state.
Interestingly, Aburime thinks all of us are ignorant, both of himself and of his boss, Charles Soludo, with the claims of their free education from primary and junior secondary schools (JSS1–JSS3) in Anambra public schools. Their ignorance failed to capture that junior education is a basic right. It is compulsory in Nigeria under the UBEC and Related Matters Act 2004. Hence, the claims of declaring free education in junior secondary schools and primary schools do not even exist in the first instance, except in the imaginations of Charles Soludo alone.
It would have been fair if the overzealous Chief Press Secretary had informed Ndị Anambra why Charles Soludo had yet to claim Anambra's UBEC grant since the state is among the few states yet to claim the over 3 billion naira UBEC grant.
In another jaundiced claim, the drowning Aburime stuttered that the Soludo administration has saved a whopping 600 million naira from diesel expenditure since opting for solar-powered street lights. While I would not want to argue about the 25,000 solar-powered streetlights, which again are mere claims, I would have expected Aburime to state what important and significant project the saved monthly 600 million naira has been channeled to take care of. Perhaps another confirmation by the Chief Press Secretary that Charles Soludo has a whopping eleven billion naira unaccounted for.
It's sad and unfortunate for a professor of international acclaim who, in his beautifully written manifesto, made numerous promises and claims of hitting the ground running from the very first day and is yet to lay the foundation stones for notable landmark infrastructural projects, despite the state accounting for over two billion naira monthly in internally generated revenue. Soludo has saved a whopping eleven billion naira in diesel expenditure, according to the CPS, and receives a joint allocation and derivation percentage as an oil-producing state, all of which caps over 20 billion naira monthly from the Federation account in the last 19 months. Yet, there's nothing to show for these funds.
In the first three months of Professor Charles Soludo's tenure, he declared that he had met nothing in the state Treasury. Although that was a lie, further facts showed his predecessor left billions in the state coffers. Soludo yet proceeded to get approval for a One Hundred Billion Naira loan request that was approved by the state assembly with the intent that he would invest the loan in projects and programs for the economic growth of the state. 19 months later, the information surrounding the said loan cannot be truly verified. These funds do not capture the donations of well-meaning Anambra indigenes from Abuja Federal Capital Territory to Lagos State who were desirous for Soludo to succeed and hit the ground running. Unfortunately, there's no atom of accountability for these funds, not in visible projects that the people of the state can feel, touch, or verify.
While hundreds of Anambra young creatives struggle daily for government assistance to effect their talents, ideas, and dreams, they are steadily denied. Aburime could not defend the allegations of the state ministry of culture and tourism releasing sixty million Naira to the governor's daughter for her annual fashion squander, while thousands of homes today are without clean water, electricity, and other basic amenities.
What are the verifiable milestone initiatives and traces of Charles Soludo in Anambra State?
19 months later, we are yet to see the world-class hospital in Okpoko, as promised by Charles Soludo to be completed in his first 12 months. The demolitions in Okpoko by his administration in his first quarter in office are a mere muscle flex and not for development.
19 months later, Anambra State has yet to have an effective transport system, or our roads fixed, at least. Instead, the touts employed in various agencies of the government only extort and harass vulnerable motorists while scaring away investors and businesses.
19 months later, there's no tangible FDI coming into the state, and the much-mouthed 4th Industrial Revolution and transition to an ICT economy are the defeated dreams of the Soludo administration.
We have waited patiently for a notice of local government council elections, which was among the critical pillars of Charles Soludo's campaign promises. It's been 19 months, and our wait seems in vain.
Professor Charles Soludo came with the promise of changing narratives and norms, but he appears lost and worse than others we have had in the past.
As citizens, we have a great deal of faith in our leaders to keep their word and diligently try to make our communities better. When those promises are broken, it is not only a betrayal of trust but also a lost chance to improve the lives of countless people who are yearning for change.
Lastly, I will leave the panting Aburime with the words of Arthur Schopenhauer: "All truth passes through three stages. First, it is ridiculed. Second, it is violently opposed. Third, it is accepted as being self-evident."
I sincerely apologize for juxtaposing Charles Soludo with Muhammadu Buhari. Such remains an embarrassment to the latter, as the former is in a different league of failure.
Uloka Chibuike writes from Awka, Anambra State and can be reached via:
08032899503
Ulokachuks@yahoo.com