News
Soludo prepares petition to AGF for Nnamdi Kanu's release
News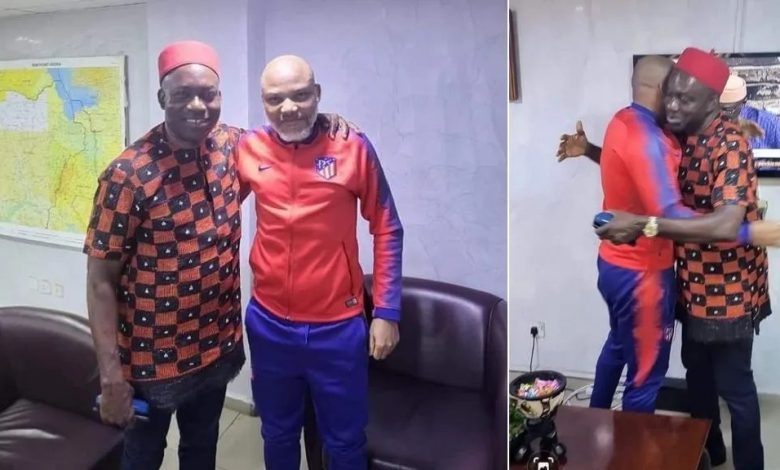 Tony Okafor, Awka
Any moment soon a petition from the Anambra State governor, Prof Chukwuma Soludo , for the release of the leader of the Indigenous People Biafra, Nnamdi Kanu, will get to the Attorney General of the Federation (AGF), Abubakar Malami.
.
Soludo who said this while appearing on Channels Television flagship programme, "Politics Today" anchored by Seun Okinbaloye, on Thursday
said the petition would be ready in a matter of days.
Recall that during the APGA Campaign Flag-off at Dr. Alex Ekwueme Square in Awka, Anambra State last week, Soludo placed a demand for the unconditional release of the IPOB leader as directed by the courts or released to him to act as his surety.
Fielding questions from the interviewer, Governor Soludo insisted that for the peace and security of the South-East, there is need for stakeholders to rally round the table to discuss, to which Nnamdi Kanu is a critical component.
While appreciating President Muhammadu Buhari for his efforts on security in the South-East, especially his kinetic approach, Soludo said it was now time for some home truth to be told, which he said would be exploring the non-kinetic approach to solving the problem of insecurity in the region.
While calling on stakeholders in the region to rise up to the occasion, the governor dismissed insinuations from some quarters that the demand he made was a political statement, expressing genuine concern about the present condition of the region for a sustainable future which he said would not be attainable without sustainable security.
Soludo further stressed that the All Progressives Grand Alliance (APGA) is the third largest political party; a home and future of true progressives in the country and maintained that in the forthcoming election in February and March, the party would be competing across board, to win.
He recalled that the late Dim Odumegwu Ojukwu was the first National Leader of APGA, after which former Governor Willie Obiano took over and he eventually stepped in as the third, stressing that Governor Obiano's position in the party as the BOT Chairman subsists as was attested to, during the flag-off ceremony.
He added that as the party leader, the onus is on him to pilot his party to victory, from top downwards.
Commenting on whether he has a Presidential ambition, Soludo wondered why people left the issues addressed in his letter to start making insinuations, stating that only God would know what woukd happen in future and not man, just as he emphasized that the letter was not written for today but for history.
He continued that having been elected Governor of Anambra State, he had come to serve the people, recalling how he started from a global level, down to the federal and state levels.
He assured that for him, the major focus would be on delivering his administration's five pillars of development, which he said he was gradually addressing.