Politics
St Stephen's Church youth mourn slain Major Churchill Orji
Security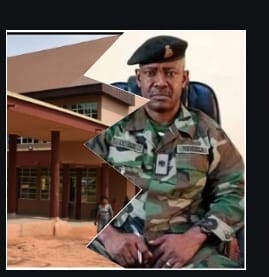 By: Tony Okafor
St Stephen's Anglican Church, Agulu, was thrown into frenzy of sorrow and weeping on Monday following the sad news of the killing of one of her own, Major Churchill Chinedu Orji, by unknown gunmen in Azia, in the Ihiala Local Government Area of Anambra State.
The entire Agulu community also saw his demise as a rude shock and great loss to the town.
Hear them:
St. Stephen's Youth Action Movement (SS-YAMA) mourns Major CC Orji.
Good evening beloved in Christ, Our Major CC Orji is gone. The news of sad demise of a Golden Son of Agulu, Major Churchill Chinedu Orji is indeed a Tragidy. Major died gallantly while serving his father's land. Quite unfortunate.
The Church, Agulu Community and the entire State have lost a Golden Son in the cold hands of death. Major CC Orji is very committed to the development of Our dear church and our Community.
The history of the Church will not forget easily the effort and commitment of Major CC Orji during the *Roofing of St. Stephen's Church Building* particularly, at the time when the environment was experiencing the most heat.
*The Sunday 26th day of December, 2010* was remarkably adored for bringing together St. Stephen's *Young men* who taught it wise that our uncompleted Church building which has stayed so long needed to be roofed.
Community mourns
MAJ C.C OJI
until his demised,he was the National treasurer of Big Brothers Int'l, member of the BOT,
Diamond Son of Agulu, he was a military senior officer, recieving compliments with an Arm(Riffles)
Commanding officer on Military Transport ( MT)2011 at ONITSHA military Cantonment, 2ic Bauchi Barracks, 2ic Minna Barracks, CO Army patrol Anambra state 2016, conquered his peace keeping missions" (United Nation) Sudan, Scotland, Liberia operations Etc, due to military policies, formations,and new system of Ranking and promotions,the new Rank has been delaying so to tally with his age and service yes,he expected his new appointment any moment before the year runs off, until his death he was OC operations 14 Brigade Obinze Barracks,not until yesterday as he was called to supply his men to the battle field where he decided to joined and never come back! Further tribute shall be prepared during his interment,his remains has been deposited to the FMC Owerri,
left to mourn him is Mrs H.C Oji wife,Somtochukwu under graduate Unizik,master Akachukwu Oji Only Son , his twin sister Ebube, and little Baby of 1year . Families,friends Allies etc
May his peaceful soul rest in perfect peace AMEN!!!
I wish to request the permission of the National Executive of BBI to use his picture as our profile/ display image for some moments as a regards, honour of his legacies towards making this great BBI a successful one,till he laid to the mother earth.
Thanks frm
GALAXY
National Financial Sec
BBI.