News
Stop serving as spokespersons for FG's outfits, IPOB tells Igbo
News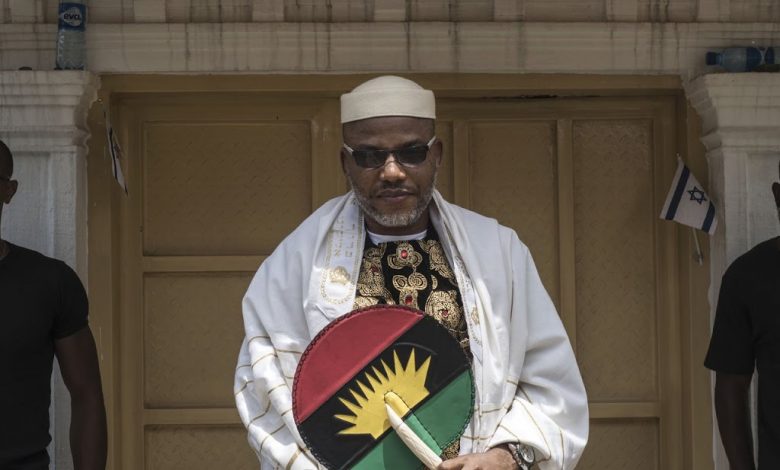 Tony Okafor,Awka
The Indigenous People of Biafra ( IPOB) has asked Igbo people to stop serving as spokespersons for Federal Government's establishments, stating that such propaganda positions are Greek gifts.
The pro-Biafra agitators stated this on Monday in a press release by its media and publicity, secretary Emma Powerful.
Listing General Onyeman Nwachukwu, ( Army Spokesman), Peter Afunanya,the Department State Serviced( DSS) Spokesman, and former force spokesperson, Frank Mba, as those positioned by the federal government in dangerous positions to launder its image, IPOB contended that the FG "refused to appoint Igbo man as security chief in Abuja.
The group said, " It is so sad that only Igbo men are considered as propaganda tools and lying machines for the Nigeria Government and their terrorists Security Agencies whose agenda is to conquer indigenous people and tribes in Nigeria and forcely fulanized and islamise them in Nigeria.
"The three Key major security agencies in Nigeria appointed Igbo men even the state levels they appointed Igbo men or women in respective states as their Spokespersons.
"The three Spokespersons above are all Ndigbo they termed them as useful idiots appointed by the Fulani Caliphate Government to defend their murderous actions against Igbo Biafrans. Every right thinking Igbo person must ask himself or herself this question; why is only Igbos appointed as spokespersons for all the key security architectures in Nigeria?
"You will never see any top ranking Igbo man as part of Nigeria Security Council where National important security decisions are made. But this compromised security agencies
of the Fulani Government cunningly appointed only Igbo men or women to be their spokespersons to lie against humanity.
"IPOB worldwide and its leadership knew their antics and gimmicks very well; Nigeria Government and its security agencies need to destroy Igbo people in service that is the reason why they appointed only Igbo men as PROs in Police, Army spokesperson and DSS spokesperson. The Fulani Government want their recruited Biafrans to defend them in their murderous actions against IPOB and other Biafrans so as to decieve the international community.
" Igbos being one of the major tribes in Nigeria and a strong pillar of the contraption called Nigeria has no security chief in Abuja. They are only useful for dangerous positions to be a lying machine to the world in defense of a tyrannical regime whose agenda is to empower terrorists to overrun the country.
"We wish to remind all the Igbo men and women who work in these propaganda offices before or currently or in future to know that their lies against our people will remain there waiting for them when Biafra comes. When the time of reckoning will come let them not remind us that they were under instructions because those that will judge them then will also be under instructions."
.