Human Interest
Sustained Public Enlightenment Can Eradicate Polio on Earth – Rotary International
Human interest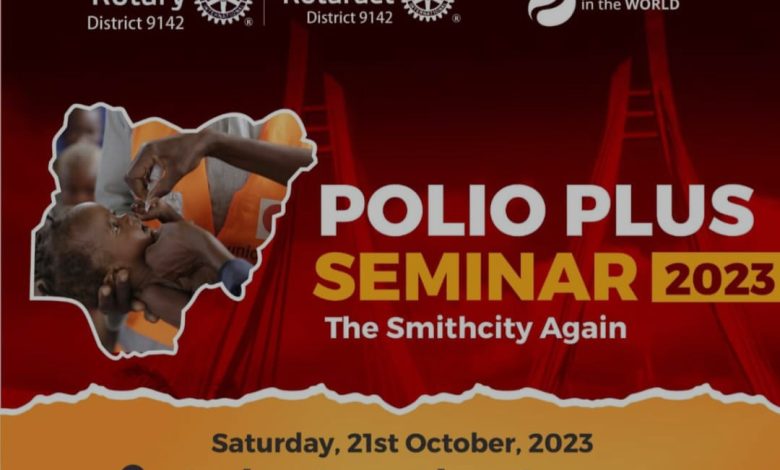 Stakeholders of Rotary International, under District 9142 of the club have said that sustained public enlightenment against poliomyelitis can eradicate the disease in the world.
The stakeholders spoke during the club's 2023 polio-plus seminar held at Awka, the Anambra State capital at the weekend.
District Governor, Rotary District 9142, Rotarian Akan Emah, while addressing members at the seminar called on them and the entire Nigeria not relent in their fight, even though Africa was already a polio free continent.
"Rotary is already recognized all over the world for her campaign against polio, and I want to urge you all to step up your game, because with you, we will have a polio free world someday"
District 9142 of Rotary International comprises of seven states in the south east and south south, including; Abịa, Akwa-Ibom, Anambra, Cross Rivers, Ebonyi, Enugu and Imo States.
Vice Chancellor of Nnamdi Azikiwe University, Awka, Professor Charles Esimone, who graced the occasion likened Rotary membership to service to humanity and to God.
He said: "Rotary has a lot to do in human development and capacity building. We need to buy into the opportunity. We all have something to give. It depends on mindset, interest and what you want to contribute.
"We can give, we can go beyond our comfort zones to get people to give. We can. Giving to rotary is like giving to God. No one gives to God and goes hungry. If you shovel to God, he will tipper you," Esimone said jocularly.
Earlier, the keynote speaker, Rtn. Joshua Hassan who was represented by Andy Uwejeyan, averred that polio would become the second disease in the history to be eradicated in the world members continued their campaign without relenting.
"Vaccines work. We have eradicated 2 out of 3 strains of the wild polio virus from the world. Only one is remaining. We have achieved regional eliminations too. It calls for celebrations and things of pride.
"We have vaccinated over 3 billion children. But we have more works to do to prevent it. We are not yet free until it gets to a point when Pakistan and Afghanistan and the entire world are certified polio free.
"Our goals are to permanently eradicate the wild polio virus, and to stop transmission of vaccine transmitted polio. To achieve this, we need $4.8bn US worldwide."