Politics
Umeh opens up, says Soludo removed his billboard in bad faith
Politics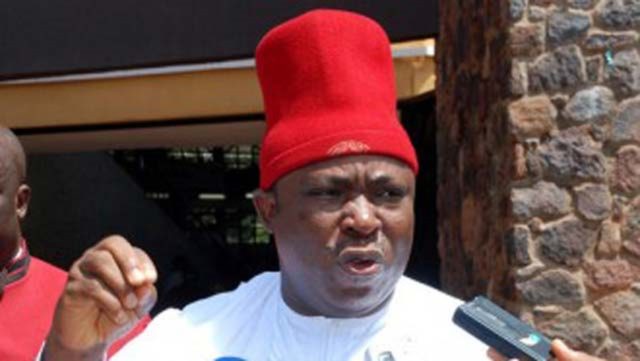 Senatorial candidate of the Labour Party in Anambra Central Senatorial Zone, Victor Umeh has opened up on the recent dismantling of his campaign billboard by the Anambra State government.
Umeh who spoke to journalists in Awka on Tuesday said the billboard was dismantled on the order of the state governor, Chukwuma Soludo.
The former senator said the governor ordered the removal of the billboard, during a meeting with some members of his party at the governor's lodge.
"He ordered them to remove it, but someone told him that I duly paid for the billboard to stand at Unizik temporary junction, but he replied that they should refund my money to me, that that space was too strategic for any other political party to display their billboards.
"They removed it on Saturday morning, and on Saturday evening, they replaced it with APGA advertisement.
"I was offered that space by SMIC Nigeria Limited. That space was previously occupied by Interfact Brewery, makers of Hero Beer, and when their contract there expired, the advertising company which is duly registered, which works with us told us the space was vacant.
"We paid N1 million for our billboard to be hoisted on that space, and the billboard had my face and that of the Labour Party presidential candidate, Mr Peter Obi. The advertising company also paid the Anambra State Signage and Advertisement Agency (ANSAA) for the billboard.
"That billboard has been there since December, and the contract was to expire after the election, but he ordered that it be removed. He did it in bad faith, and I heard that he has asked me to go to court if I liked, that if I do, the matter will remain there until after the election."
He said further: "On the very day he ordered that the billboard be removed, about five people who were in that meeting called to tell me too. This is impunity. The Soludo government has been very intolerant of other political parties campaigning in Anambra, except APGA and PDP. That is unfair."
Asked whether he feels bad campaigning for the emergence of Soludo as a member of his national campaign council last year, Umeh said he has no regret.
He said: "I campaigned for him to be governor, during the run-off at Ihiala, he called me to be his returning officer, and I discharged creditably, ensuring that his votes were not stolen, and after that, I took the result to him in Isuofia and presented it to him.
"I have no regret. I only told him my interest was for him to take care of Anambra people, and it is left for the people to judge if he is doing well or not."