News
Umeh: You know I'm not gutter journalist, Nwanosike Onu replies Ekwunife
Politics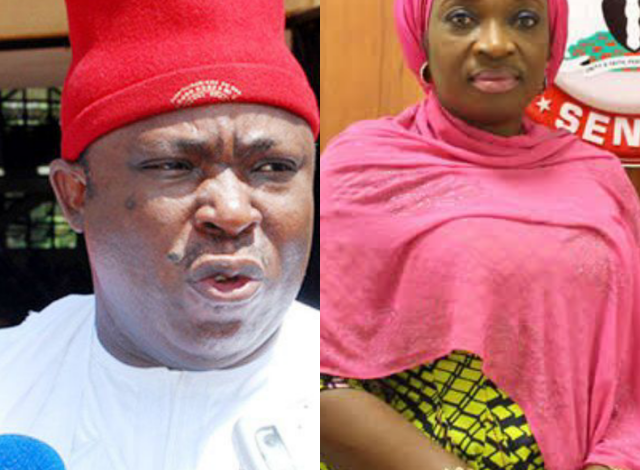 By Nwafor Okafor
Anambra State correspondent of The Nation Newspaper, Mr Onu Nwanosike,has dismissed the allegation of receiving bribe from Senator Victor Umeh to publish a story against Senator Uche Ekwunife as gutter talk.
Stating that for the past five years, he had not had any form of contact with Umeh, Onu said he was from a reputable family that nothing would make him to engage in gutter journalism as alleged by Ekwunife and her media team.
He said the allegation was either the imagination of Ekwunife and co or just an expression of phobia for the 2023 general elections.
Ekwunife via her media team had published in a blog that "Senator Victor Umeh Bribes Nwanosike Onu, with N400,000 to make up a report against Senator Ekwunife".
In reply to the publication, Onu said
"Ekwunife's allegation against my person, laughable ".
Onu's refutation read in part, "My attention has been drawn to a senseless social media report against my person from Senator Uche Ekwunife's media group, alleging that I was bribed by Senator Victor Umeh to write a report against their Principal (Ekwunife)
"The report published by one inconsequential platform (dailynews reporters), alleged that Umeh bribed me with 400,000 naira to make false publication against Senator Uche Ekwunife to tarnish her image .
"They further said that my Office, The Nation, had issued a query to me as a result, describing me as The South East and South South Bureau Chief of the Nation Newspaper, which I'm not.
"First and foremost, my Office did not issue any query to me to that effect because, The Nation family knows me well, that I'm not that sort of a reporter.
"Besides, Senator Umeh and I, have not spoken to each other in the last five years or thereabout and how come he gave me such amount of money to tarnish someone's name.
"The report which was published in The Nation online, "Ekwunife mocks Peter Obi's Presidential ambition", has put them off balance, because they feel it might work against their Senatorial ambition in the Central, the reason they went thus far.
"Those who know me in Anambra can testify the kind of person Iam, their hatchet job can not stop me from saying the truth at all time.
"They want me to draw a battle line against Ekwunife, but I'm sorry I will have to dissapoint them because I'm not a 'gutter' person . I'm from a reputable home with a solid name.
"I implore my friends, colleagues, Associates in and around the world to disregard such a useless social media report to tarnish my reputation.".