News
UNICEF explains areas of intervention to Anambra flood victims
News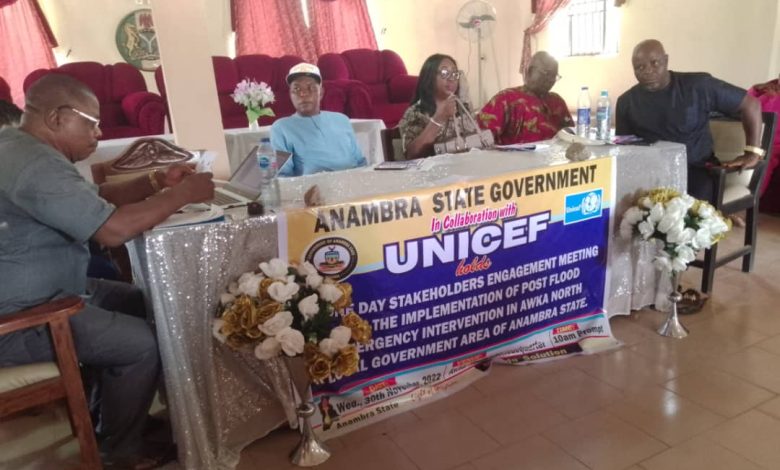 Tony Okafor, Awka
The United Nations Children's Fund ( UNICEF) has explained to flood victims in Awka North Local Government Area of Anambra State areas it could assist.
Enugu Field Office WASH Specialist, Mr. Timi Kiabuku, gave the explanation on Wednesday during a meeting of UNICEF officials with stakeholders of flood-affected areas, for the implementation of the post-flood intervention in Awka North Local Government Area of the state.
He pledged that irrespective of the lean resources, the agency would make reasonable impacts in its intervention.
He said UNICEF intervention would focus on three thematic sectors, Viz: Child Protection, Health and WASH.
He said, "The ongoing UNICEF response to the Anambra flood emergency is with funding from United Nations Central Emergency Response Fund (CERF).
"UNICEF's response will focus on three sectors – Child Protection, Health and WASH.
"For Child Protection, the response will focus on protection concerns in three key areas: the provision of psychosocial support for flood-affected children, the prevention of family separation and the reunification of separated and unaccompanied children, as well as the strengthening of community-based protection systems related to GBV.
"For Health, the response will focus on emergency primary health care services to address waterborne and vaccine-preventable childhood diseases by ensuring continued access to health services via mobile brigades, prepositioning essential medicines and supplies, and improving health-seeking behaviours through community engagement.
"For WASH the response will focus on the distribution of critical WASH supplies, the provision of essential services, including water system rehabilitation, rehabilitation and desludging of sanitation facilities in schools and PHCs, and conducting hygiene promotion campaigns.
Speaking, the Water, Sanitation and Hygiene (WASH) Consultant supporting WASH section of UNICEF ( Enugu office), Mr Andy Nwanze, said the joint meeting with the stakeholders was to fashion out modalities for intervention.
He said four communities in the LGA:
Ugbene, Awba Ofemili, Ugbenu and Achara were affected, adding that another aim of the intervention was to reduce post-flood diseases and look into the damage done on health centres, schools and other basic facilities by the flood.
In his speech, the LGA Chairman, described the flood in area as devastating and terrible, stressing that people in the area lost all the had, including their farm produce of rice, yam, cassava,etc.
He charged UNICEF to be transparent and committed in its intervention, adding to pay mere lip service on the matter would be a disservice to the victims.
He said, "Let it not be a lip service. Our people lost all they had in the flood; farm produces were completely destroyed. Everything anybody can do to help the victims will be appreciated. Any way to assist we need it. We pray never again shall we see this type of thing in our area.