News
WACOL Holds Road Walk to Marks Int'l Day for GBV Elimination 
News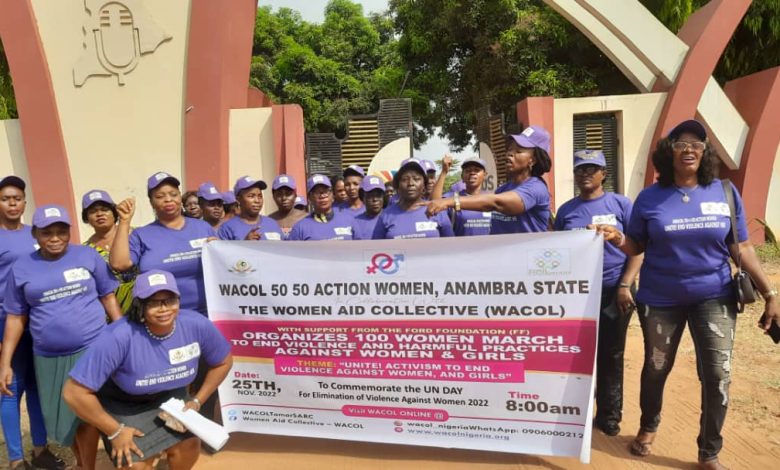 Members of a non-Governmental Organisation, WomenAid Collective (WACOL), in partnership with Ford Foundation, have staged a peaceful march against acts of violence against women and girls in Anambra.
Speaking during the march, the Coordinator for WACOL 50-50 Action Women in Anambra, Ms Nkoli Ebede, said they took to the streets for a peaceful march to commemorate the International Day for Elimination of violence and harmful practices against women and girls.
Ebede told journalists on Friday in Awka that the march was to create awareness on the need to end all forms of violence against women and girls.
She said that United Nations Day for elimination of violence against women 2022 was themed, "Unite! Activism to end violence against women and girls."
Ebede described the theme as most apt and of monumental importance and called for a joint effort to end violence against women and the girl child.
She called for more support from men, who, according to her, would be instrumental in ending all forms of violence against women.
Also speaking, WACOL 50-50 Action Women State Secretary, Mrs Ngozi Mbachi, tasked the traditional rulers, religious leaders and other critical stakeholders on grassroots sensitisation.
Mbachi said that the critical stakeholders have stronger influence to end all forms of obnoxious practices against women.
She expressed optimism that with massive awareness, GBV would be reduced to the barest minimum in no distant time.
Earlier, WACOL programme officer, Mrs Egodi Igwe, represented by Mrs Nneka Anoliefo, commended women who participated in the peaceful march.
Igwe urged them to take the message to the nooks and crannies of the state, assuring that WACOL would continue to provide support, especially as it concerns the quest to eliminate gender-based violence in Anambra state, Southeast and Nigeria at large.
WACOL said the peaceful march which commenced on November 25, is part of its planned activities to mark 16 Days of Activism against Gender Based Violence.
WACOL said that it submitted to the Anambra Government its Memoranda of understanding (MoU), towards ending violence and harmful cultural practices against Women and Girls.
Igwe said that November 25 has been adopted annually by the United Nation to raise awareness and call for the prevention of violence against women the world over.
The November date officially kick-starts the 16 days of Activism against Gender-Based Violence (GBV).
As part of the event lined up for the 16 Days of Activism 2022, Women Aid Collective (WACOL) 50-50 Action Women will organise a massive Women's March in Anambra.
She disclosed that a peaceful march will also hold in other South-East and South-South States in Nigeria.
The states includes Edo, Delta, Anambra, Imo, Abia, Enugu, and Ebonyi.
The objectives of the walk are to create public awareness of the spate of violence against women and girls in the society.
WACOL calls on duty bearers, and traditional rulers to take more effective action to stop violence against women, and girls, especially the harmful cultural practices.
Also, WACOL appeals that the MoU on Ending Violence and Harmful Practices against women and girls be sent to stakeholders in the state which included the state Governor, the council of traditional rulers, and the state Commissioner for Women Affairs.
WACOL said that it would appreciate the Effective Implementation of the Violence Against Persons Prohibition (VAPP) and all existing Laws criminalising VAWG, especially the harmful widowhood practices.
"The effective implementation by all communities of the state of emergency on VAWG declared by the Nigerian Governors Forum in 2020."
It called on communities with immediate effect to integrate the Supreme Court Judgement on the Right of the Girl-child to property inheritance into their constitution.
It said "All communities should include Women and girls into leadership positions of community governance structures such as cabinets, town unions, and youth wing – through more inclusive processes for elective classes, clearly spelt out in the constitution.
"We, therefore, call on stakeholders, especially Human/Women's Rights activists, CSO, law enforcement officers, and youths to #ActNow, toward eliminating violence against women, and girls in society," they requested.
Mrs Rose Oranye, one of the women participants, said that the Day was worth its celebration, and urged the society to join hands to eliminate all forms of violence against women and the girl child.
"Women should feel very free to live in this earth and perform the legitimate functions given to them by God and man without fears,"she said.
Razor report's that the event, an annual International Day For The Elimination of Violence against women, runs till December 10, Human Rights Day.
Razor also reports that the Action was started by Activists at the Inaugural Women's Global Leadership Institute in 1991 and continues to be coordinated each year by the center for women's Global Leadership.